RECIPE BY:
Courtney Roulston
SERVING SIZE:
2 – 4 people
INGREDIENTS:
1 ½ cups blueberries
1 heaped tablespoon Coles white chia seeds
½ cup (125ml) water
¼ cup maple syrup
½ teaspoon vanilla bean paste
4 thick slices Coles Laurent Sourdough bread, toasted
SALTED ALMOND BUTTER:
2 cups roasted almonds
½ teaspoon sea salt flakes
METHOD:
Place the blueberries into a small pot over a medium heat. Mix the chia seeds into the water for 1-2 minutes, or until turned into a thin gel. Add into the pot with the blueberries and bring up to a boil.
Reduce the heat to a gentle simmer and add in the maple syrup and vanilla. Continue to cook, stirring occasionally for 10 minutes, or until the jam has turned thick and syrupy. Remove from the heat and allow to cool before transferring into a sterilized jar.
For the almond butter, place the almonds and sea salt into a small food processor. Blitz for 2-3 minutes, or until the almonds have broken down into a soft butter like texture.
To serve, spread the almond butter onto hot toast and dollop over the blueberry chia jam.
*Jam will store in the refrigerator and use within 7 days.
*Almond butter will last as long as the used by date on the almond packet.
Our friends at Wine Selectors recommend pairing this dish with a Chilled Tawny.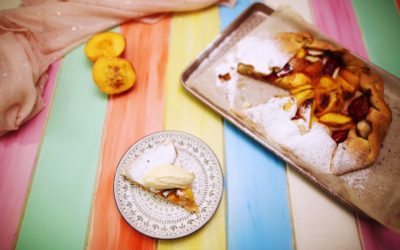 RECIPE BY: Matt Sinclair SERVING SIZE: 2 - 4 people INGREDIENTS: 2 cups plain flour 2 Tbsp caster sugar 125gm LURPAK unsalted butter, chopped 2 eggs ¼ cup almond meal 700gm firm but ripe stone fruit, thinly sliced** 2 Tbsp raw or demerara sugar Icing sugar and cream...