RECIPE BY:
Matt Sinclair
SERVING SIZE:
2 – 4 people
INGREDIENTS :
250g Coles Ricotta
4 egg yolks
1 tsp. vanilla bean extract
1 cup Self-Raising flour
200 ml milk
4 egg whites
½ cup caster sugar
50 gm unsalted butter
Garnish
200g assorted berries
2 Tbsp. roasted slivered almonds
Zest of 1 orange
Maple Syrup
Dollop mascarpone
Icing sugar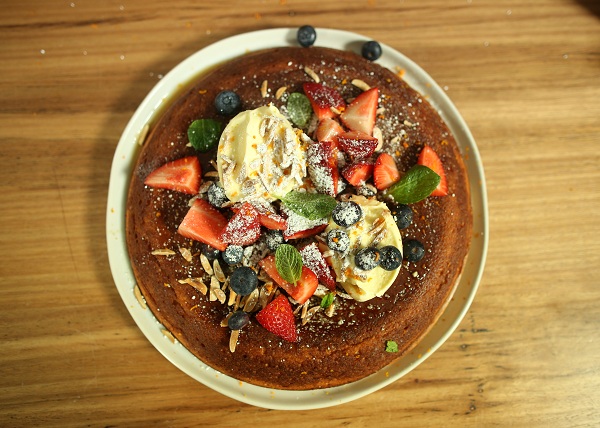 METHOD :
Pre-heat oven to 170C. Place 30cm metal-handled frypan in over to heat.
Combine ricotta, egg yolks, vanilla and milk in a large bowl and whisk until smooth. Sift in flour and whisk to combine.
In a separate bowl or stand mixer, whisk egg whites until foamy. Gradually add sugar, approximately 2 Tbsp. at a time, and whisk until thick and glossy. Egg whites should leave a trail.
Add 1/3 egg white mixture to ricotta batter and fold gently to combine. Repeat with remaining mixture.
Add butter to preheated frypan and allow to melt in the oven.
Pour batter into frypan and place back into oven. Cook until slightly risen and golden brown, approximately 25 minutes.
Garnish with assorted berries, maple syrup, toasted almonds, mascarpone and icing sugar.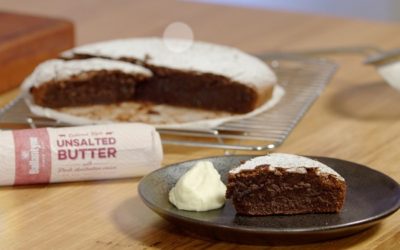 RECIPE BY: Matt Sinclair   INGREDIENTS: 200 gm Ballantyne Unsalted Butter, extra for greasing 2 Cups of Almond Meal 200 gm Dark Chocolate, 70% cocoa, finely chopped 5 Coles large eggs, room temperature ½ cup caster sugar METHOD: Preheat oven to 160C. Grease base and...