Saffron Poached Pears & Dukkah

RECIPE BY:
Matt Sinclair
SERVING SIZE:
6 people
INGREDIENTS:
6 Small William pears
1L water
½ cup caster sugar
Pinch of saffron threads
5 cloves
2 cinnamon quills
3 star anise
2cm piece ginger, sliced
1 orange peel, all pith removed
DUKKAH:
¼ cup pistachios
¼ cup hazelnuts, peeled
1 Tbsp. cumin seeds
1 Tbsp. fennel seeds
¼ cup sesame seeds
½ teaspoon sea salt flakes
METHOD:
Peel and core all pears, ensuring the stems remain intact. Cut a small amount off the base of each pear so that they can stay upright.
In a medium saucepan add water, sugar, spices, peel and ginger and bring to a boil over a medium heat. Add the pears and reduce heat to a light simmer. Turn the pears often and poach for 30-40 minutes, until tender when pricked with a skewer.
Remove pears gently and set aside. Return poaching liquid to a medium heat and reduce by 2/3, into a light syrup. Strain and set aside.
In a shallow baking tray, add pistachios and hazelnuts and toast in the oven at 180C for approximately 10 minutes or until golden. Remove from tray and set aside to cool.
In a mortar and pestle add cumin seeds and fennel seeds and pound to release aroma. Transfer to a small bowl and add sesame seeds and salt, mix to combine.
Transfer nuts to a mortar and pestle and grind into a coarse crumb. Add to other ingredients and mix well to combine. Taste and adjust seasoning if required.
To assemble, divide pears between 6 shallow bowls, spoon over a Tbsp. of syrup and sprinkle with dukkah.
Add a scoop of ice cream and serve immediately.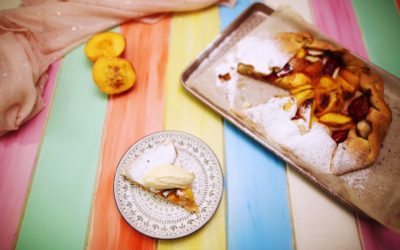 RECIPE BY: Matt Sinclair SERVING SIZE: 2 - 4 people INGREDIENTS: 2 cups plain flour 2 Tbsp caster sugar 125gm LURPAK unsalted butter, chopped 2 eggs ¼ cup almond meal 700gm firm but ripe stone fruit, thinly sliced** 2 Tbsp raw or demerara sugar Icing sugar and cream...