Strawberry & Buttermilk Pancakes

RECIPE BY:
Michael Wheldon
TIME:
Prep time 10 mins
Cook time 10 – 15 mins
INGREDIENTS:
4 -5 Coles strawberries diced
1 cup plain flour
1 tbsp baking powder
1 cup Buttermilk
1tbs Maple syrup
Pinch of salt
1tbsp butter
GARNISH:
1 Punnet of Coles Strawberries, halved
Cream, to serve
Maple syrup, to serve
Vanilla Ice Cream, to serve
100g Sesame seeds, to serve
METHOD:
In a large bowl, combine flour, baking powder, maple syrup, salt, and buttermilk with a whisk until nice and runny. Add strawberries and fold through.
In a pan melt butter and coat the pan. Ladle in the pancake mix to your desired size and flip when golden on the bottom.
Serve on a plate garnished with remaining strawberries, cream, ice cream, maple syrup and sesame seeds.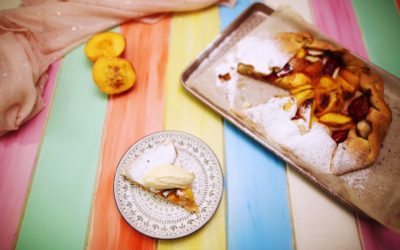 RECIPE BY: Matt Sinclair SERVING SIZE: 2 - 4 people INGREDIENTS: 2 cups plain flour 2 Tbsp caster sugar 125gm LURPAK unsalted butter, chopped 2 eggs ¼ cup almond meal 700gm firm but ripe stone fruit, thinly sliced** 2 Tbsp raw or demerara sugar Icing sugar and cream...