RECIPE BY:
Courtney Roulston
SERVING SIZE:
2 – 4 people
INGREDIENTS:
185g plain flour, plus extra for dusting
¼ teaspoon baking powder
120g salted Lurpak butter, cold, cut into cubes
90g Philadelphia cream cheese, cold, cut into cubes
3 tablespoons cream, cold
ALMOND BASE FILLING:
50g Almond meal
50g caster sugar
1 tablespoon plain flour
1 teaspoon cinnamon
TOP FILLING:
500g strawberries, hulled and sliced
80g caster sugar
Zest of ½ orange
1 tablespoon corn flour
GLAZE:
1 egg
1 tablespoon demerara sugar
*Vanilla ice cream or double cream to serve
METHOD:
To make the pastry, place the flour, baking powder and butter into a food processor and blitz for 30 seconds or until the mixture looks like breadcrumbs. Add in the cream cheese and pulse again to form crumbs, then add in the cream and pulse until the mixture comes together. Tip out onto a lightly floured work surface and press into a disc.Wrap the dough in cling film and set aside in the fridge for 2 hours to rest.
Preheat the oven to 200 degrees. Mix together the almond base ingredients in a small bowl and toss to combine.
Remove the pastry from the fridge and roll out onto a lightly floured work surface and roll into a 40cm circle around 3-4mm thick. Carefully transfer the pastry to a lined oven tray and sprinkle with the almond meal mixture leaving a 5cm border on the outside. Toss the strawberries with the sugar, orange and cornflour. Place the strawberries onto the almond mixture and carefully draw the pastry border up and over the filling, leaving an area uncovered. Brush the egg mixture all around the outside of the border and sprinkle with demerara sugar. Bake for 40 minutes, or until the pastry is golden. Remove from the oven and set aside to cool slightly before serving with Cream or vanilla ice cream.
Our friends at Wine Selectors recommend pairing this dish with a Moscato.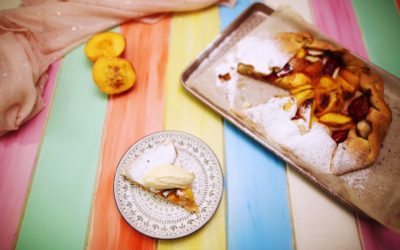 RECIPE BY: Matt Sinclair SERVING SIZE: 2 - 4 people INGREDIENTS: 2 cups plain flour 2 Tbsp caster sugar 125gm LURPAK unsalted butter, chopped 2 eggs ¼ cup almond meal 700gm firm but ripe stone fruit, thinly sliced** 2 Tbsp raw or demerara sugar Icing sugar and cream...