RECIPE BY:
Matt Sinclair
SERVING SIZE:
8 – 12 people
INGREDIENTS:
1 Brancourts Sweetened Condensed Milk Squeeze Pack
250gm Coles Cream Cheese, softened
1/3 cup fresh passionfruit pulp, plus extra
250gm gingernut biscuits
125gm butter, melted
250gm mascarpone, softened
¼ Cup Lemon Juice
Zest of 1 Lemon
Pinch Salt
METHOD:
Break up gingernut biscuits into a food processor and blitz into an even crumb. Transfer to a mixing bowl and add the melted butter. Mix to combine. Line a 9" springform pan with baking paper and pour in crumb mixture. Press down firmly on the base and up the sides to create the biscuit base. Use the back of a spoon to even and firm the biscuit. Place in the refrigerator to set for a minimum 30 minutes.
Meanwhile, make the cheese mixture. Place the cream cheese and mascarpone in a stand-up mixer and beat with a paddle until smooth. Gradually pour in the condensed milk and mix until smooth. Stop the mixer, scrape down the sides of the bowl, add in the lemon juice and zest and mix until evenly combined.
Pour cheese mixture into the chilled biscuit base and smooth out the top with a spatula. Add passionfruit pulp on top. Cover and refrigerate overnight.
Top with extra passionfruit pulp before serving.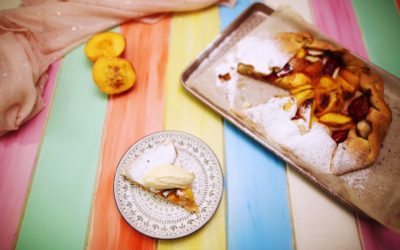 RECIPE BY: Matt Sinclair SERVING SIZE: 2 - 4 people INGREDIENTS: 2 cups plain flour 2 Tbsp caster sugar 125gm LURPAK unsalted butter, chopped 2 eggs ¼ cup almond meal 700gm firm but ripe stone fruit, thinly sliced** 2 Tbsp raw or demerara sugar Icing sugar and cream...