Vietnamese Coffee Popsicles

RECIPE BY:
Courtney Roulston
SERVING SIZE:
6 people
INGREDIENTS :
400ml espresso (from a French press/ Coffee Machine-Not instant powder)
2 cardamom pods
2 whole cloves
1 cinnamon quill
150ml Brandcourts Sweetened Condensed Milk Squeeze Pack
100ml cream
METHOD :
Place coffee and spices into a small saucepan and bring up to a simmer. Remove from the heat and leave to stand for 15 minutes to infuse. Refrigerate for 15 minutes to cool.
Strain the coffee into a large jug, discard the spices, then whisk in the condensed milk and cream. Pour mixture into icy pole moulds and insert icy pole paddles or sticks and freeze for 2-3 hours, or until frozen.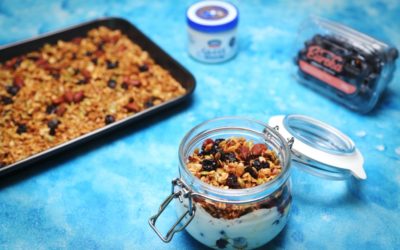 RECIPE BY: Michael Weldon SERVING SIZE: 2 - 4 people INGREDIENTS: 2 punnets of Coles Eureka blueberries 1 tub of Jalna Greek yoghurt honey GRANOLA: 2 cups of rolled oats ½ cup of sunflower kernels ½ cup dried cranberries ½ cup roasted almonds ½ cup coconut flakes ½...