RECIPE BY:
Matt Sinclair
SERVING SIZE:
2 – 4 people
INGREDIENTS:
3 Tbsp pistachios
3 Tbsp hazelnuts
3 Tbsp almonds
½ Tbsp cumin seeds
½ Tbsp coriander seeds
½ Tbsp sesame seeds
1 tsp brown sugar
Salt
250gm digestive biscuits
120gm Lurpak unsalted butter, melted
300gm white chocolate
500gm PHILIDELPHIA cream cheese, softened
1 ½ cup cream
3 Tbsp icing sugar
1 tsp vanilla extract
METHOD :
Preheat oven to 160C. Lightly grease an 8" spring-form pan.
Place the nuts on a baking tray and roast until lightly golden and fragrant.
Toast the spices and sesame seeds in a pan over a low-medium heat until aromatic.
Break up the digestive biscuits into a food processor. Add ¾ of the nuts and ¾ of the spices and blitz until mixture is a crumb. Remove into a mixing bowl and add melted butter, sugar and salt to taste. Mix together well to combine.
Turn out mixture into the cake pan and push the crumb out evenly across the base, and up the sides of the pan. Smooth out and press it out firmly using the bottom of a glass. Place in the refrigerator to set for a minimum of 30 minutes.
Fill medium-sized saucepan with an inch or so of water and bring to a simmer over a medium heat.
Place a heatproof bowl on top, break up the chocolate up into the bowl and melt, stirring often with a spatula. Remove once melted and set aside to cool slightly.
Place the softened cream cheese in a stand mixer and beat, using the paddle attachment until smooth.
Pour in the chocolate and mix to combine until smooth. Transfer into a large mixing bowl.
Place the cream, icing sugar and vanilla I the stand mixer bowl and beat to thicken, using a whisk attachment (or use electric beaters), until soft peaks form. Add half of the mixture into the cream cheese and chocolate and fold in to combine. Repeat with the final half and fold through. Pour out into the chilled dukkah biscuit base and smooth out with a spatula. Place in the refrigerator for a minimum of 8 hours, ideally overnight to set.
Roughly chop remaining nuts and garnish the cheesecake with these and the remaining dukkah.
Our friends from Wine Selectors suggest that this dish and a Liqueur Verdelho would be a match made in heaven.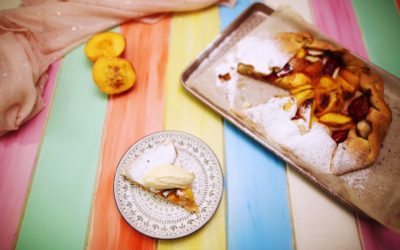 RECIPE BY: Matt Sinclair SERVING SIZE: 2 - 4 people INGREDIENTS: 2 cups plain flour 2 Tbsp caster sugar 125gm LURPAK unsalted butter, chopped 2 eggs ¼ cup almond meal 700gm firm but ripe stone fruit, thinly sliced** 2 Tbsp raw or demerara sugar Icing sugar and cream...