RECIPE BY:
Matt Sinclair
SERVING SIZE:
2 – 4 people
INGREDIENTS:
1 cup caster sugar
3 eggs, room temperature
¾ cup Jalna Greek yoghurt
Zest of 1 lemon
1 tsp. vanilla extract
1 ½ cup Coles self raising flour
½ tsp salt
120ml Cobram Estate Light Extra Virgin Olive Oil
CRÈME ANGLAISE
500ml full-cream milk
2 star anise – or 4-5 if stronger flavour is preferred
85gm caster sugar
6 egg yolks
TO SERVE
METHOD:
Preheat oven to 180C. Lightly grease a loaf tin and line with greaseproof paper, leaving a 2cm overhang lengthways on each side.
Place the sugar and eggs into a stand mixer and whisk on a medium speed until incorporated. Add in the yoghurt, zest and vanilla and whisk to combine. Remove from mixer and sift in the flour, baking powder and salt and mix to combine. Gradually pour in the olive oil, stirring continuously until fully incorporated. Pour mixture into prepared loaf tin and bake for 45-50 minutes. A skewer inserted in the middle of the cake should come out clean. Allow to cool in the tin slightly before lifting out onto a wire rack to cool completely.
Meanwhile, make the anglaise. Toast the star anise in a medium saucepan, over a low-medium heat, and then add the milk. Bring to a very light simmer, then remove from heat. Allow to steep and cool for 10 minutes.
Make an ice bath by adding ice cubes and a small amount of cold water into a large mixing bowl and rest a smaller mixing bowl in the ice. Place a fine sieve over the top.
In a mixing bowl, whisk together sugar and egg yolks until pale and fluffy. Gradually pour the milk into the egg mixture, whisking continuously. Once combined, transfer entire mixture back into the saucepan and return to a medium heat. Stir continuously until the custard begins to thicken and coats the back of the wooden spoon.
Strain the custard into the bowl in the ice bath. Add the orange zest and stir to mix through and cool the anglaise.
Serve cake with warm or chilled anglaise.
Our friends at Wine Selectors recommend pairing this dish with a Late Harvest Semillon.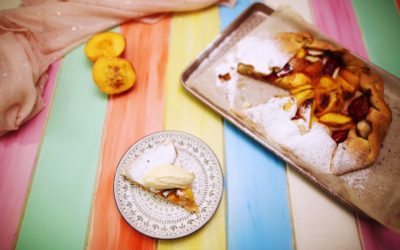 RECIPE BY: Matt Sinclair SERVING SIZE: 2 - 4 people INGREDIENTS: 2 cups plain flour 2 Tbsp caster sugar 125gm LURPAK unsalted butter, chopped 2 eggs ¼ cup almond meal 700gm firm but ripe stone fruit, thinly sliced** 2 Tbsp raw or demerara sugar Icing sugar and cream...