RECIPE BY:
Michael Weldon
SERVING SIZE:
2 – 4 people
INGREDIENTS:
1 packet (500g) Birds Eye Cauliflower Rice
1 Brown Onion diced
2 Garlic Cloves finely diced
1tbsp Ground Garam Masala
1tbsp Ground Cumin
1tbsp Ground Coriander
1tbsp Ground Tumeric
1tbsp Mustard Seeds
1 bunch Coriander
Cobram Estate Classic EVOO
3 Tbsp Jalna Biodynamic Greek Yoghurt
METHOD:
Heat pan with Extra Virgin Olive Oil and add 1 diced brown onion, cook off for 1 minute to get the flavours started. Add two cloves of diced garlic and a tbsp of mustard seeds. Add tbsp tumeric, cumin, Garam Masala and Coriander. When you start hearing the popping of the mustard seeds, add in the frozen cauliflower. Stir through to coat Cauliflower with all the spices.
Once cooked through serve into a large bowl. Add Jalna Biodynamic Yoghourt on top and garnish with a sprinkle of fresh chopped coriander. Enjoy!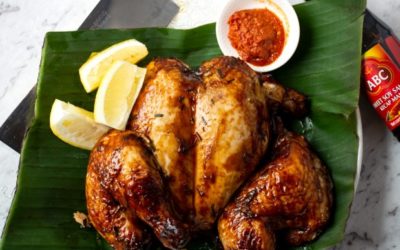 SERVING SIZE:2 - 4 people INGREDIENTS:1.5kg whole chickenMARINADE:1/2 cup ABC Sweet Soy Sauce (kecap manis)1/3 cup TCC Premium Coconut Milk6 kaffir lime leaves (thinly sliced)1 tsp cinnamon powder / 1 cinnamon stick (crushed)1 green chilli (finely sliced)1 tbsp ginger...