RECIPE BY:
Sam Goodwin
SERVING SIZE:
2 – 4 people
INGREDIENTS:
500g Chicken thigh fillets, skin on 1⁄4 cup light soy sauce
2 tbsp sake
3cm ginger, minced
1 garlic clove, minced
1 tsp caster sugar
1 cup cornflour Sea salt flakes
2L Cobram Estate EVOO oil, for deep frying
1⁄4 cup Mayonnaise
2 tsp Wasabi
To serve:
2 nori sheets
Chilli flakes
Lime wedges
METHOD:
To prepare chicken, cut chicken thighs into 4-5cm pieces & place in medium size mixing bowl. Add soy sauce, sake, ginger, garlic, and sugar. Toss well to combined, and set aside to marinate lightly for 10-15 minutes.
Place corn flour into large bowl & season generously with salt flakes. Remove chicken from marinade one piece at a time, drop into flour, and toss to coat. Shake of any excess flour and place chicken onto tray in single layer. Repeat with remaining chicken ensuring the pieces are overlapping & touching on tray once coated. Allow chicken to stand uncover briefly to allow it to dry slightly before frying.
Heat saucepan of oil or deep-fryer to 180°C. Add chicken to fryer in batches, ensuring you don't over-crowd the fryer (50% of surface area is a good amount). We want to fry the chicken 3 times to get the crispiest coating – do this by deep frying for 30 seconds, then remove from oil for 30 seconds. Repeat this two more times.
Meanwhile, to make wasabi mayonnaise, add mayonnaise & wasabi paste to small bowl. Mix well to combined to smooth consistency.
To make the nori flakes, using steel tongs, fan the nori sheets oven an open flame from the stovetop. It will change in colour and curl up onto itself. Place to the side to cool.
To serve, garnish the chicken with a sprinkle of toasted nori flakes & chilli flakes. Serve with lime wedges & wasabi mayonnaise on the side.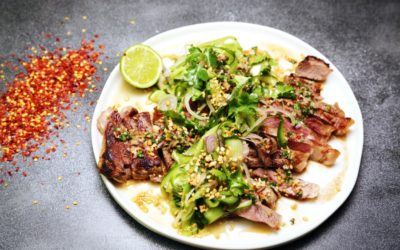 RECIPE BY: Courtney Roulston SERVING SIZE: 2 - 4 people INGREDIENTS: 2 x 230g Coles Finest Sirloin steaks 1 tablespoon Cobram Estate EVOO 2 Lebanese cucumbers, peeled into noodles 2 red shallots (French ), finely sliced ½ cup loosely packed coriander leaves ½ cup...