RECIPE BY:
Matt Sinclair
INGREDIENTS:
5 cups leftover risotto (Coles Arborio Rice), chilled
150gm ball mozzarella, diced into 1cm cubes
150gm plain flour
3 eggs, lightly beaten
300gm panko crumbs
¼ cup parsley, finely chopped
Salt and Pepper
Cobram Estate Light Extra Virgin Olive Oil for frying
METHOD:
Using lightly oiled hands, take 2 Tbsp. of risotto into your palm and roll into a ball. Use your thumb to make an indent in the middle of the ball and place one piece of diced mozzarella into the centre and mould the risotto to enclose the cheese. Repeat with remaining rice.
In 3 separate bowls, place the flour, eggs and panko crumbs. Add the parsley to the panko and season with a pinch of salt and freshly cracked black pepper.
Roll each risotto ball in the flour and shake off the excess. Transfer to the egg wash and turn to coat. Finally, transfer to the herbed panko and gently press to evenly coat. Place in the refrigerator to chill and set for 30 minutes.
Fill a small saucepan with 2 inches of Cobram Light olive oil and bring to 190C over a medium-high heat. Gently drop the arancini in small batches, turning occasionally, and cook until golden brown, approximately 4-5 minutes. Remove and drain on paper towel. Season with sea salt, transfer to a platter and serve hot.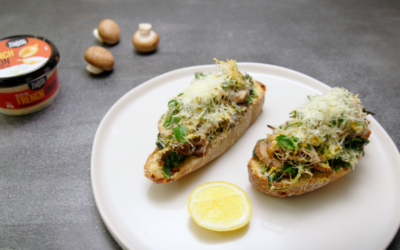 RECIPE BY: Matt Sinclair SERVING SIZE: 2 - 4 people INGREDIENTS: 3 Tbsp Cobram Estate Classic Extra Virgin Olive Oil 1 brown onion, finely sliced 150gm Swiss brown mushrooms Salt and pepper 4 spring fresh thyme 100gm baby spinach 60gm Zoosh French Onion Dip 1 Tbsp...