Bacon and Egg Tortilla Cups

RECIPE BY:
Matt Sinclair
SERVING SIZE:
8 people

INGREDIENTS:
4 Simson's Pantry Regular Premium White Wraps
4 rashers rindless bacon
5 Coles Free Range 700g Eggs, whisked
2-3 Tbsp. Cobram Estate Light Extra Virgin Olive Oil
1/3 cup sour cream
2 spring onions, finely sliced
¾ cup shredded cheese
1 ½ cup cherry tomatoes, halved
Salt and Pepper
METHOD:
Preheat oven to 180C. Grease a muffin tin with olive oil.
Lay out the wraps on a chopping board and brush both sides with olive oil. Cut in half, and then into 3 triangular pieces each. Arrange 3 tortilla triangles into each muffin hole, pointy end down, ensuring there are no gaps. Gently push down and set aside. **You may need to heat the wraps slightly in the microwave or oven to avoid breakage.
Cook the bacon in a dry pan over medium heat for approximately 3-4 minutes, until any fat has rendered. Avoid overcooking. Drain on paper towel. Tear bacon into smaller strips and lay across the base of each tortilla cup.
In a jug or small bowl add the eggs and sour cream and bring together with a fork. Mix in the spring onions and shredded cheese and season with salt and pepper. Pour or spoon mixture over the bacon and fill to ¾ and top with ½ a cherry tomato. Place in the oven for 15 minutes or until eggs are set. **The middle should have a slight wobble.
Remove from the oven and allow to cool in muffin tin for a few minutes to firm. Serve hot with tomato relish (see recipe).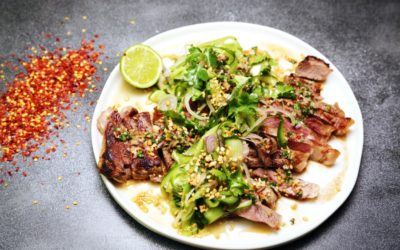 RECIPE BY: Courtney Roulston SERVING SIZE: 2 - 4 people INGREDIENTS: 2 x 230g Coles Finest Sirloin steaks 1 tablespoon Cobram Estate EVOO 2 Lebanese cucumbers, peeled into noodles 2 red shallots (French ), finely sliced ½ cup loosely packed coriander leaves ½ cup...