RECIPE BY:
Michael Weldon
SERVING SIZE:
2 – 4 people
INGREDIENTS:
1 tub Zoosh Gherkin Dip
4 Large potatoes
4 Rashers smoked Bacon
200g Tasty Cheese
200g Sour Cream
1 bunch Chives
2 Spring Onions
2 Dill Pickles
4 tbs of toasted sunflower seeds
1 Bottle of hot sauce
METHOD:
Preheat a fan-forced oven to 200 degrees Celsius.
Pierce potatoes skins with a fork or knife. Wrap potatoes in tin foil and put into the oven, for 40 minutes or until soft.
Dice bacon finely and fry in a pan until crispy. Set aside.
Dice finely dice spring onions, chives, and dill pickles. Grate cheese. Set each ingredient aside, ready for assembling.
Once potatoes are cooked, carefully unwrap foil and make a cut in potatoes lengthways so that they are open but not halved. Press down on sides to break open further and make more room for toppings.
Start by topping potatoes with cheese, followed by ZoOSh Gherkin Dip. Then add spring onions, chives, pickles, bacon, sunflower seeds and sour cream.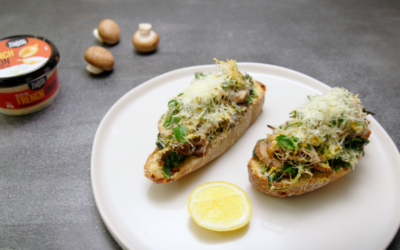 RECIPE BY: Matt Sinclair SERVING SIZE: 2 - 4 people INGREDIENTS: 3 Tbsp Cobram Estate Classic Extra Virgin Olive Oil 1 brown onion, finely sliced 150gm Swiss brown mushrooms Salt and pepper 4 spring fresh thyme 100gm baby spinach 60gm Zoosh French Onion Dip 1 Tbsp...