Baked Salmon with Warm Potato Salad
RECIPE BY:
Michael Weldon
SERVING SIZE:
4 people
TIME:
Prep Time 5 mins
Cook Time 20mins
INGREDIENTS:
4 x 200g pieces of salmon, skin on
Cobram Estate Robust Extra Virgin Olive Oil
Salt and pepper
1kg Baby Potatoes, cut in half
Juice from half a lemon
1 shallot, sliced thinly
¼ cup of ZoOSh Balsamic Splash Light Dressing
2tbs seeded mustard
½ cup parsley, chopped
½ cup dill sprigs, chopped
METHOD:
Preheat oven to 180C
On an oven tray, place salmon pieces on top of some baking paper. Season with salt and pepper and drizzle some olive oil over the top. Place tray in the oven and allow it to cook for 10 minutes.
In a bowl, add thinly sliced shallots, seeded mustard, balsamic dressing, lemon juice, dill and parsley and give it a good mix.
In a large pot, place cut potatoes in a pot full of cold water with a pinch of salt and a tablespoon of vinegar. Bring to boil for roughly 15 minutes or until potatoes are nicely softened. Strain water and add warm potatoes straight into the dressing mixture. Toss the potatoes through the dressing until they are evenly coated.
To serve, place salmon on a plate with your delicious warm potato salad.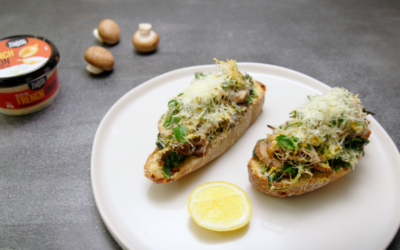 RECIPE BY: Matt Sinclair SERVING SIZE: 2 - 4 people INGREDIENTS: 3 Tbsp Cobram Estate Classic Extra Virgin Olive Oil 1 brown onion, finely sliced 150gm Swiss brown mushrooms Salt and pepper 4 spring fresh thyme 100gm baby spinach 60gm Zoosh French Onion Dip 1 Tbsp...