RECIPE BY:
Matt Sinclair
INGREDIENTS:
1 large whole side of salmon, skin on
2 shallots, diced
Cobram Estate Classic Extra Virgin Olive Oil
Pyramid Salt
BUERRE BLANC:
2 tbsp white wine vinegar
½ cup white wine
1 tbp black peppercorns
Pinch of saffron
2 bay leaves
200g butter
Dill leaves for garnish
METHOD:
Preheat oven to 220C.
Drizzle a generous amount of olive oil over the skin side of the salmon and a sprinkle a good hit of salt, nice and even, so that the skin crisps up.
In a saucepan, add peppercorns, white wine vinegar, white wine, bay leaves and saffron. Place saucepan on the stove on a low heat and allow it to reduce. Strain the reduction over a pan, bring it to a simmer and gently whisk through the butter, bit by bit.  Once you have a nice smooth consistency, the Beurre blanc is ready.
Heat baking tray on the stove and when it's nice and hot, place salmon on heat, skin side down. Allow the skin to cook and crisp up. When the skin is a nice golden brown colour, place the salmon into the oven and bake for 10-12 minutes.
Place salmon on a large serving tray or wooden board, garnish with some dill and serve with the Buerre blanc sauce. Enjoy!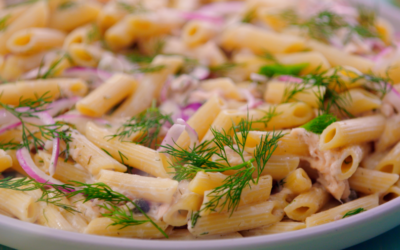 RECIPE BY: Michael Weldon SERVING SIZE: 2 - 4 people INGREDIENTS: 1 x Coles Penne Rigate 500g 1 x Coles Hot Smoked Salmon fillet 1 x ZoOSh Smoked Salmon dip ½ x Red onion, thinly sliced ½ jar Coles baby Capers ½ Dill bunch, roughly chopped (save a few sprigs for...