RECIPE BY:
Matt Sinclair
INGREDIENTS:
1 cup milk
¼ cup honey, plus a little extra to serve
3 eggs, room temp
3 bananas
1 cup flour
1 tsp baking powder
Butter
Cream
Handful of strawberries, to serve
METHOD:
To make batter, in a bowl add milk and honey. Using eggs at room temperate, separate the egg yolks from the egg whites. Add the egg yolks to the milk & honey, set the whites aside. Whisk together the wet mixture. Once combined, gradually add the flour and baking powder, whisk together until light and fluffy. Place aside.
In a separate bowl, whisk the egg whites together for 20-30 seconds or until soft peaks form.
Peel bananas and roughly slice into small chunks. Fold the slices into the pancake batter and add a dash of milk. Fold the egg whites into batter until incorporated.
In a hot pan, add butter and oil (tip: oil won't let the butter burn).
Ladle the pancake batter into the pan, 3 at a time for small pancakes. Let cook until bubbles form throughout the mixture, then flip to cook the other side. Whist the pancakes are cooking, whisk together some fresh cream for serving. Once the pancakes are golden brown, stack onto a plate.
On top of the pancake stack, add quartered strawberries, a drizzle of honey and whipped cream.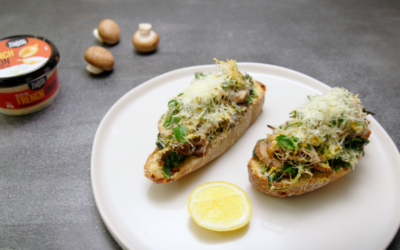 RECIPE BY: Matt Sinclair SERVING SIZE: 2 - 4 people INGREDIENTS: 3 Tbsp Cobram Estate Classic Extra Virgin Olive Oil 1 brown onion, finely sliced 150gm Swiss brown mushrooms Salt and pepper 4 spring fresh thyme 100gm baby spinach 60gm Zoosh French Onion Dip 1 Tbsp...