RECIPE BY:
Matt Sinclair
INGREDIENTS :
1x Packet Little Lucifer's Smoking Hickory & Mesquite Wood Chips
2 x Coles Beef Eye Fillet Steaks
Oil (enough to cover the filets evenly)
Salt (enough to cover the filets evenly)
2 x bunches of asparagus
1 tbsp Freshly shaved Horseradish
50g Ballantyne Rolled Cultured Style Unsalted Butter
1 tbsp Dijon Mustard
Pinch of salt
METHOD :
Pierce the foil packaging of the wood chips and place on the grill and close the lid for 10 minutes.
In a small bowl combine butter, mustard, horseradish and salt.
Coat the steaks evenly with salt and olive oil. Place asparagus and steaks on the grill, cook 2 minutes each side (depending on how you like your steak). Once cooked to liking, coat steaks in butter mixture, reserving a portion for serving, cook a further minute.
Remove asparagus and steak from grill and add reserve butter on top, serve with roast potatoes.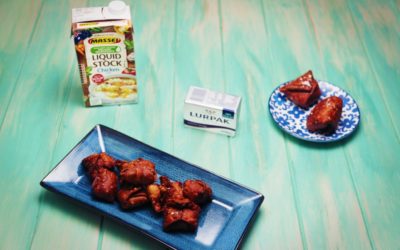 RECIPE BY:Kylie MillarSERVING SIZE:2 - 4 peopleINGREDIENTS:300g flour75g Lurpak Slightly Salted butter75g grated cheddar cheese50g vegemiteColes cling wrapMETHOD:Place all ingredients, except the water, into a food processor and blitz until it resembles fine...