RECIPE BY:
Matt Sinclair
SERVING SIZE:
4 people
DRESSING:
¼ cup ZoOSh Free Range Egg Mayonnaise
¼ cup Coles Greek Yoghurt
2 Tbsp. tahini paste
2 tsp honey
Lemon rind of 1 lemon
8 anchovy fillets, finely diced
SALAD INGREDIENTS:
½ Coles Hot Roast Family BBQ Chicken, shredded
1 Turkish roll, thinly sliced diagonally
1 Tbsp. Cobram Estate Robust Extra Virgin Olive Oil
4 rashers middle bacon, rind removed
2 heads baby cos lettuce, cut into quarters
½ red onion, finely sliced
¼ cup parmesan, shaved
2 lemon cheeks
2 large eggs
METHOD:
Preheat oven to 180C. Place the sliced bread on a lined baking tray and drizzle with the olive oil. Divide the chopped anchovy amongst the bread, breaking up any large bits by spreading them over the bread. Bake in the oven for 10-12 minutes or until golden brown and crisp.
To prepare the dressing, blitz together the mayonnaise, yoghurt, tahini, honey, lemon rind and 8 anchovies.
Add the bacon rashers to a grill or normal pan and cook on a medium-high heat. Cook for 7-8 minutes, or until lightly caramelised on both sides. Drain on paper towel and chop into 1 inch pieces. Add baby cos lettuce quarters to the same pan and allow them to char.
For perfectly boiled eggs, carefully place eggs into boiling water and allow to cook for 6 minutes.
To serve caesar salad, place charred lettuce on a large plate or serving bowl, layer with BBQ chicken, croutons, bacon and onion. Scatter shaved parmesan over the top and squeeze over the lemon juice just before serving. Top with a perfectly boiled eggs. Enjoy!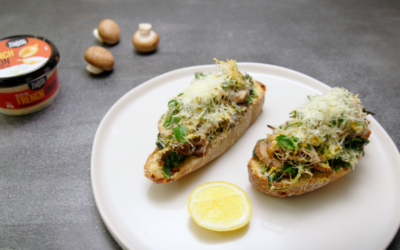 RECIPE BY: Matt Sinclair SERVING SIZE: 2 - 4 people INGREDIENTS: 3 Tbsp Cobram Estate Classic Extra Virgin Olive Oil 1 brown onion, finely sliced 150gm Swiss brown mushrooms Salt and pepper 4 spring fresh thyme 100gm baby spinach 60gm Zoosh French Onion Dip 1 Tbsp...