RECIPE BY:
Michael Weldon
SERVING SIZE:
2 pizzas
TIME:
Prep Time 10mins
Dough proving time 12hrs
Cooking time 4-6 mins

INGREDIENTS:
1 Coles Family Hot Roast BBQ Chicken, meat picked from bones
1 x 400g tin of Ardmona Whole Peeled Tomatoes
2tbs Coles BBQ Sauce
Pinch of salt
1 red onion, sliced
¼ fresh pineapple, sliced thinly
1 tub Coles Traditional Bocconcini
1 piece of Parmigiano Reggiano
1 bunch of coriander
1 jalapeno, thinly sliced
3tbsp Cobram Estate Robust Extra Virgin Olive Oil
DOUGH:
¾ cup bread flour
¾ cup plain flour
½ a pack of yeast 0r ¾tsp Dry yeast
1 tsp Cobram Estate Robust Extra Virgin Olive Oil
A pinch of Salt
METHOD:
In a large mixing bowl, combine flours and salt and mix through. In a jug with 200mls of warm water add the yeast and olive oil, mix together. Add the water to the flour and mix together and then gently knead unto the dough forms into a ball. Cover the bowl with cling wrap and leave to rest for 30 minutes in a warm place.
Once the dough has rested, knead again for about 3 minutes on a floured surface until everything is smooth. Then divide into 2 piece and roll into balls. Place on a heavily floured tray and then flour the tops of the dough. Cover with cling wrap and place in a fridge for 12-24hrs.
Remove the dough from the fridge 1hr before you want to cook the pizza. Turn your oven on to fan grill and the heat up as high as it will go. If you have a pizza stone place this in the oven now to allow it to heat up.
Gently press out the dough until it's round and an even thickness, if the outside is slightly raised this is fine.
Combine the tomatoes, salt and BBQ sauce on a bowl and blend together with a stab blender until smooth.
Make your pizza; start with a small amount of the tomato and bbq sauce. Top that with some broken up bocconcini, then the chicken. Top the chicken with the red onion, pineapple and jalapenos. Finish by grating over some parmesan and a light drizzle of olive oil.
Place into the oven on a tray or the pizza stone and cook until crispy on the base and caramelized on the top. This should take no more than 3 minutes. Repeat the same process for the second ball of dough.
When cooked garnish with some coriander leaves. Enjoy.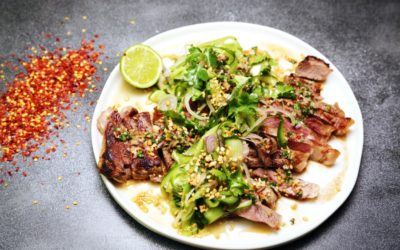 RECIPE BY: Courtney Roulston SERVING SIZE: 2 - 4 people INGREDIENTS: 2 x 230g Coles Finest Sirloin steaks 1 tablespoon Cobram Estate EVOO 2 Lebanese cucumbers, peeled into noodles 2 red shallots (French ), finely sliced ½ cup loosely packed coriander leaves ½ cup...