RECIPE BY:
Matt Sinclair
SERVING SIZE:
2 – 4 people
INGREDIENTS:
2 Asian shallots, finely diced
1 Nashi pear, peeled, cored, grated
12 cloves garlic, finely grated
3 inch piece ginger, peeled, finely grated
220ml light soy sauce
3 Tbsp sesame oil
3 Tbsp gochujang (optional)
¼ cup brown sugar
2 Tbsp Cobram Estate Light Extra Virgin Olive Oil
2 kg beef short ribs, cut thinly across the bone**
3 spring onions, finely chopped
2L of Massel Liquid Chicken Stock
METHOD :
In a large pot over a stove, heat stock. Add in all ingredients except for ribs and oil and allow to simmer for 2-3 minutes.
Turn heat down and place beef ribs into pot. Allow to braise for 2-3 hours.
Take ribs out of pot and put into large oven tray. Take some of the braising liquid and pour into a pan over a hot stove and add oil. Reduce the liquid to a saucy consistency.
Pour sauce over beef ribs in oven tray. Put into a 220 degree fan-forced oven for 5-10 minutes until outside is sticky.
Serve whole or cut in between the bones for bite-sized pieces. Garnish with spring onion and serve with kim chi and rice if desired.
**This can be done by the butcher. The cut is also known as 'flanken' and is cut across the bone on the chuck end of the short rib. The slices should be approximately ½ inch thick.
Our friends at Wine Selectors recommend pairing this dish with a Malbec or Shiraz Cabernet Blends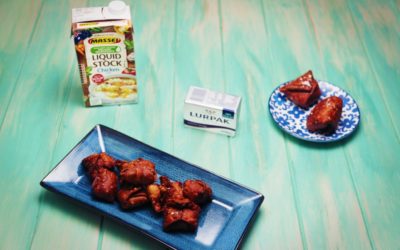 RECIPE BY:Kylie MillarSERVING SIZE:2 - 4 peopleINGREDIENTS:300g flour75g Lurpak Slightly Salted butter75g grated cheddar cheese50g vegemiteColes cling wrapMETHOD:Place all ingredients, except the water, into a food processor and blitz until it resembles fine...