RECIPE BY:
Matt Sinclair
SERVING SIZE:
4 people
INGREDIENTS:
4 Coles corn cobs
1 Tbsp. KEEN's Chilli Powder
½ Tbsp. coriander seeds
1 tsp cumin seeds
1 tsp caraway seeds
1 tsp. garlic powder
1 ½ tsp. salt
100gm Ballantyne Spreadable Unsalted Butter, room temperature
*Little Lucifer Smoking Wood Chips Savoury Herb
METHOD:
Add the coriander, cumin and caraway seeds to a small dry saucepan and place over a low-medium heat. Toast spices for approximately 2-3 minutes or until aromatic, tossing frequently to avoid burning. Transfer to a mortar and pestle and pound into a powder. Add in the KEEN's Chilli Powder, garlic powder and salt and mix to combine. Taste and adjust seasoning if desired.
Peel back the husks of the corn toward the base of the cobs, bring together and tie in a small knot. **These can be removed but they make it easy to BBQ, and to eat.
Place the butter in a small bowl with the harissa spice mix and mix well to combine. Using a pastry brush, apply the butter liberally onto the corn cobs, reserving any leftover harissa butter for basting.
Heat a BBQ grill plate or fire on high (**Using Little Lucifer) and place corn to cook for approximately 10 minutes, turning and basting until corn is tender and charred. Remove from BBQ and brush with any remaining harissa butter. Serve hot.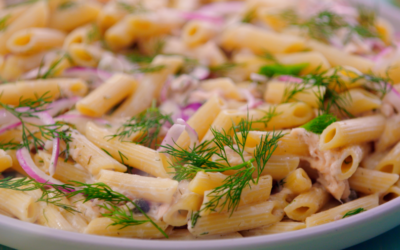 RECIPE BY: Michael Weldon SERVING SIZE: 2 - 4 people INGREDIENTS: 1 x Coles Penne Rigate 500g 1 x Coles Hot Smoked Salmon fillet 1 x ZoOSh Smoked Salmon dip ½ x Red onion, thinly sliced ½ jar Coles baby Capers ½ Dill bunch, roughly chopped (save a few sprigs for...