RECIPE BY:
Matt Sinclair
SERVING SIZE:
6 people
INGREDIENTS:
6 flathead fillets (or Red Emperor), approx. 150gm each
1 ½ cups self-raising flour, plus extra
375ml cold lager beer
Salt and Pepper
Cobram Estate Classic Extra Virgin Olive Oil for frying
TARTARE SAUCE:
1 cup ZoOSh Free Range Egg Mayonnaise
2 Tbsp. white wine vinegar
¼ cup cornichons, finely chopped
2 Tbsp. baby capers, drained, finely chopped
¼ cup dill fronds, finely chopped
2 Tbsp. Italian parsley leaves, finely chopped
2 tsp. wholegrain mustard
Salt and pepper
METHOD:
Preheat Deep fryer to 180C.
Place flour in a bowl and season with salt and pepper. Gradually pour in the beer, whisking continuously until smooth and combined.
Place extra flour in a bowl, lightly coat fillets and shake off the excess. In batches, dip the fish fillets into the batter and allow any extra to drain off. Transfer into fryer and cook fish for 2-3 minutes, turning halfway to ensure even cooking. Remove when golden and drain on paper towel. Season with salt and repeat with remaining fish.
Serve immediately with tartare sauce and fresh lemon cheeks.
TARTARE SAUCE:
In a small bowl combine all ingredients and mix well to combine. Season with salt and freshly cracked black pepper. Taste and adjust if required.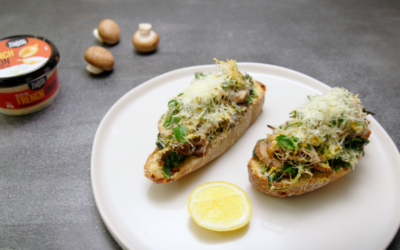 RECIPE BY: Matt Sinclair SERVING SIZE: 2 - 4 people INGREDIENTS: 3 Tbsp Cobram Estate Classic Extra Virgin Olive Oil 1 brown onion, finely sliced 150gm Swiss brown mushrooms Salt and pepper 4 spring fresh thyme 100gm baby spinach 60gm Zoosh French Onion Dip 1 Tbsp...