RECIPE BY:
Matt Sinclair
INGREDIENTS:
4 pack Simson's Pantry Regular Premium White Wraps
2 Tbsp. Cobram Robust Extra Virgin Olive Oil
1 tsp. fennel seeds
1 tsp. cumin seeds
1 tsp. dried oregano
½ tsp each Salt and cracked pepper
BEETROOT HUMMUS:
300gm cooked beetroot, chopped
400gm canned chickpeas, drained and rinsed
1 large garlic clove, roughly chopped
1 ½ Tbsp. tahini paste
Zest and Juice of 2 lemons
2-3 Tbsp. Cobram Extra Virgin Olive Oil
Salt and Pepper
METHOD:
Preheat oven to 180C and line 2 baking trays with greaseproof paper.
In a mortar and pestle, coarsely grind the fennel and cumin seeds, oregano and salt and pepper.
Cut the wraps into irregular strips and place into a mixing bowl with the olive oil and spice mix. Toss to coat evenly. Lay out onto the baking trays and avoid them touching. Place into the oven for approximately 7-8 minutes or until golden brown and crisp. Remove and transfer to a wire rack to cool.
BEETROOT HUMMUS
Place the beetroot, chickpeas, garlic, tahini paste and lemon zest into a food processor and pulse to combine. Scrape down any larger pieces, add ½ the lemon juice, 2 Tbsp. olive oil and season with salt and freshly cracked black pepper. Blitz to combine. Taste and adjust with extra lemon juice, olive oil or salt and pepper if required. Transfer to serving dish and serve with spiced tortilla crisps on the side.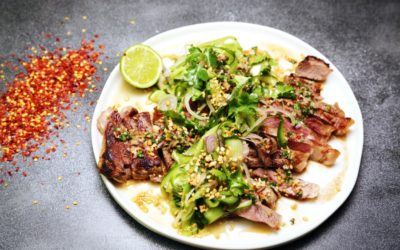 RECIPE BY: Courtney Roulston SERVING SIZE: 2 - 4 people INGREDIENTS: 2 x 230g Coles Finest Sirloin steaks 1 tablespoon Cobram Estate EVOO 2 Lebanese cucumbers, peeled into noodles 2 red shallots (French ), finely sliced ½ cup loosely packed coriander leaves ½ cup...