RECIPE BY:
Michael Weldon
SERVING SIZE:
2 – 4 people
INGREDIENTS:
500g baby potatoes
500mL Massel Liquid Beef Stock
2 sprigs of rosemary, plus extra to serve
2 cloves of garlic, peeled and sliced
1tbs seeded mustard, plus extra for serving
1 tbs white vinegar
1 tbs Lurpak salted butter, 1tbs extra for gravy
METHOD :
Slice potatoes in half lengthways and place into a large pot. Break sprigs of rosemary into halves and add to pot.
Add in garlic, mustard, vinegar, butter and stock to pot and stir through. Put pot over heat and bring to a boil. Turn down heat and allow pot to simmer for 30 minutes or until potatoes are soft.
Scoop potatoes out of pot and put onto serving plate. Leave liquid in pot on stove. Add extra butter to pot and continue to reduce to make gravy.
Spoon extra mustard seeds over potatoes and sprinkle with extra rosemary sprigs.
Pour thickened gravy over potatoes and serve.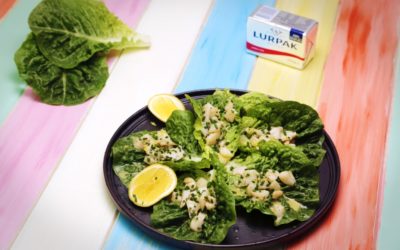 RECIPE BY:Courtney Roulston and Scott McRaeSERVING SIZE:2 - 4 people INGREDIENTS:12 fresh scallops in the half shell80g Lurpak butter, room temperature2 teaspoon lemon zest, finely grated1 large clove garlic, grated2 tablespoons fresh dill, finely chopped1 green...