RECIPE BY:
Matt Sinclair
SERVING SIZE:
4 people
INGREDIENTS :
1.4kg Coles Lamb Shoulder with a generous fat cap
2 Litres Massel liquid chicken stock
¼ cup Cobram Robust Olive oil
1 Tbsp. Cumin seeds
1 Tbsp. coriander seeds
4 bay leaves
1 tsp black peppercorns
Sea salt
METHOD :
Preheat oven to 150C.
In a large saucepan heat 2 Tbsp. Cobram Robust Olive oil over a medium heat. Add cumin seeds, coriander seeds, bay leaves and peppercorns and fry off for approximately 1-2 minutes or until aromatic. Add chicken stock and bring to the boil to infuse.
Place lamb shoulder in desired braising tray, ensuring it is deep enough to submerge entire shoulder. Pour stock over the lamb, cover with tin foil and place in to oven for 4.5 hours.
Remove from oven and allow to rest in the braising liquid for approximately 30 minutes.
Turn oven to 240C. Remove lamb shoulder from braising liquid and place on a roasting rack. Drizzle the fat cap with remaining olive oil and generously season with sea salt. Place into heated oven for approximately 10-15 minutes, or until golden and crispy.
Serve with roasted garlic labneh.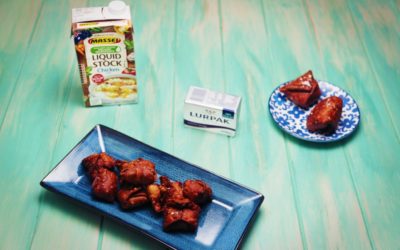 RECIPE BY:Kylie MillarSERVING SIZE:2 - 4 peopleINGREDIENTS:300g flour75g Lurpak Slightly Salted butter75g grated cheddar cheese50g vegemiteColes cling wrapMETHOD:Place all ingredients, except the water, into a food processor and blitz until it resembles fine...