Broccoli and Couscous Soup

RECIPE BY:
Michael Weldon
INGREDIENTS:
1 packet of Ainsley Harriott's Roasted Vegetable Couscous
2 litres of Massel Vegetable Liquid Stock
2 tbsp Cobram Estate Extra Virgin Olive Oil Classic Flavour
1 head of broccoli, sliced into small chunks (including stem)
1 red onion, roughly diced
2 garlic cloves, roughly chopped
1 thumb sized piece of ginger, roughly sliced
1 tbsp cumin powder
1 tbsp coriander powder
½ bunch of Kale, roughly chopped
1 tin of chickpeas
Juice of 1 lemon
Pepper
Salt
Parsley- to garnish
Greek Yoghurt- to garnish
METHOD:
In a large pot on low heat add oil, onion, salt, ginger and garlic, stir together, cooking for 2-3 minutes or until aromatic. Add coriander & cumin and again fry off, stirring until aromatic. Add broccoli, Kale and stock, stir through and bring up to the boil and bring to simmer for about 10-15 minutes. Broccoli should be falling apart when pressed.
Turn off the heat and blend contents with stick blender to desired smoothness.
Add Couscous and chickpeas, stir through until the couscous is hydrated (approximately 4 minutes).
Serve with fresh lemon juice, parsley and a spoon of yoghurt.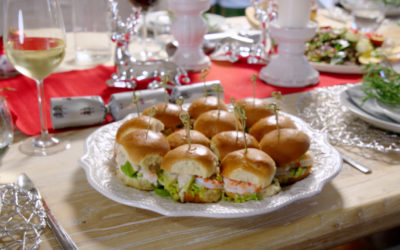 View Khanh's special Christmas recipe at The Cook's Christmas Pantry:  Related...