Ceviche with Crispy Wontons

RECIPE BY:
Matt Sinclair
SERVING SIZE:
2 – 4 people
INGREDIENTS:
1 medium sized Amberjack fillet
2/3 cup lime juice
Pinch of salt
½ Lebanese cucumber deseeded, finely chopped
½ golden shallot, finely chopped
½ long red chilli, finely chopped
2 Tbsp. coriander stem, finely chopped
Kaffir Lime leaves, chiffonade (see note)
10 wonton skins
Vegetable oil for frying
Coriander leaves (to garnish)
METHOD:
Remove any dark areas or bloodlines from the fillet and dice into 1 cm cubes. Combine in a bowl with cucumber, chili, kaffir, salt, coriander stem, shallot and mix to combine
Before serving dress with lime juice and taste, adjusting with salt if necessary. Feel free to add extra chilli – this would be my preference!
Heat oil to 190C in a small pan or fryer and fry wonton skins until puffed and golden.
Garnish ceviche with coriander leaves and kaffir lime, and crispy wontons on the side.
** Note – To chiffonade, cut the stem out of the kaffir lime leaves, stack them together and roll them up tightly. Using a sharp knife, finely slice them into very thin ribbons.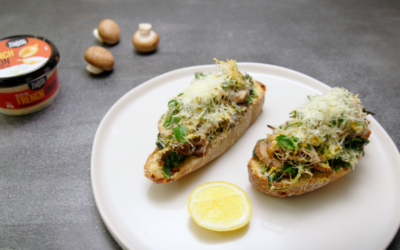 RECIPE BY: Matt Sinclair SERVING SIZE: 2 - 4 people INGREDIENTS: 3 Tbsp Cobram Estate Classic Extra Virgin Olive Oil 1 brown onion, finely sliced 150gm Swiss brown mushrooms Salt and pepper 4 spring fresh thyme 100gm baby spinach 60gm Zoosh French Onion Dip 1 Tbsp...