RECIPE BY:
Matt Sinclair
SERVING SIZE:
2 – 4 people
INGREDIENTS:
3/4 cup quinoa
2 cups Coles soy milk (or preferred milk)
1/2 cup water
1/4 cup chia seeds
2 Tbsp honey
2 Tbsp brown sugar
1 Tbsp mixed spice
1 tsp ground cardamom
Small pinch salt
1/2 tsp cracked black pepper
1/4 cup raisins
1/3 cup almonds, roughly chopped
1 pear, cored, chopped
GARNISH:
1 pear, cored, thinly sliced
1/4 cup almonds, or pistachios roughly chopped
Coles Maple Syrup
METHOD:
Add all the porridge ingredients to a medium pot and place over a medium-low heat. Bring to a boil, stirring often to avoid any sticking to the bottom. Reduce the heat to low, cover and simmer, stirring often for 15-20 minutes until the liquid has been well absorbed. Taste and adjust seasoning if required.
Divide into serving bowls and top with extra fruit and nuts. Chill any leftover and enjoy within 2-3 days, cold or warm.
*Alternate with seasonal fruit.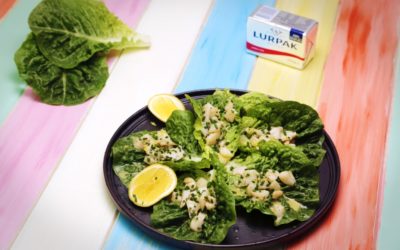 RECIPE BY:Courtney Roulston and Scott McRaeSERVING SIZE:2 - 4 people INGREDIENTS:12 fresh scallops in the half shell80g Lurpak butter, room temperature2 teaspoon lemon zest, finely grated1 large clove garlic, grated2 tablespoons fresh dill, finely chopped1 green...