RECIPE BY:
Michael Weldon
INGREDIENTS :
1 packet of Littler Lucifer Ready-To-Use Smoking Wood Chips Hickory & Mesquite
1 boneless leg of lamb, scored on the non-skin side
3 tomatoes
2 red onions
1 lemon, to garnish
MARINADE:
4 cloves of garlic, sliced
10 sprigs thyme, chopped
5 sprigs rosemary, chopped
½ bunch parsley, finely sliced
1 cup Cobram Estate Light Extra Virgin Olive Oil
1 tomato
Juice of ½ lemon
METHOD :
In a bowl, combine the marinade ingredients, crushing the tomato to release its juice and adding a pinch of salt. Mix with your hands, crushing the tomatoes as much as possible into the mixture.
Place the marinade into the flesh of the lamb, reserving a small amount of for the dressing of your salad. Allow to marinate for 2-12 hours.
5 minutes before you plan on cooking your meat, poke some holes in your Little Lucifer Smoking Chips and add to your BBQ and close the lid. Once smoke becomes apparent, add your lamb to the grill and put the lid back on. Cook for 10-12 minutes until it is nice and crispy/ caramelised on the bottom. Flip lamb and add tomato and onion to the grill for another 5- 10 minutes.
Set aside the lamb to rest for 5 minutes. Slice tomatoes and onion into bite-size piece and combine in a bowl with reserved marinade dressing.
Carve the lamb to desired thickness and top with tomato salsa and garnish with lemon slices.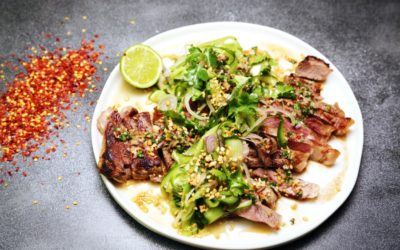 RECIPE BY: Courtney Roulston SERVING SIZE: 2 - 4 people INGREDIENTS: 2 x 230g Coles Finest Sirloin steaks 1 tablespoon Cobram Estate EVOO 2 Lebanese cucumbers, peeled into noodles 2 red shallots (French ), finely sliced ½ cup loosely packed coriander leaves ½ cup...