Chargrilled Vegetables and Couscous Salad

RECIPE BY:
Michael Weldon
TIME:
Prep time: 5 mins
Cooking: 10 mins
INGREDIENTS:
1 x Ainsley Harriott's Roast Vegetable Couscous
1 eggplant, cut into 1cm slices
1 red onion, cut into 8 wedges
1 Zucchini, cut into ½ cm slices
1 red capsicum, cut into 4 even pieces/sides
1 large flat mushroom, sliced
1 bunch of basil
2tbs balsamic vinegar
4tbs Cobram Estate Light Extra Virgin Olive Oil
1tbs grain mustard
Black Pepper
1 tsp Cobram Estate Robust Extra Virgin Olive Oil – for couscous
METHOD:
Empty couscous packet into a bowl and pour 160ml of boiling water. Drizzle a bit of olive oil and stir. Set aside for 3-5 minutes until the water has absorbed. Fluff the couscous with a fork.
In a separate bowl, season all vegetables with a pinch of salt and evenly coat them in olive oil. On a hot grill plate with the stove set on high, cook each piece of vegetable until cooked through and nicely charred. Roughly slice vegetables further  and combine them with the couscous in a salad bowl.  Dress the salad with grain mustard, balsamic vinegar and olive oil, enough to give the salad a nice shine without drowning it in oil.  Lastly, mix the basil leaves through.
Serve salad with an extra drizzle of olive oil and extra basil leaves. Enjoy!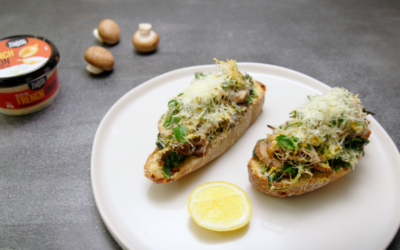 RECIPE BY: Matt Sinclair SERVING SIZE: 2 - 4 people INGREDIENTS: 3 Tbsp Cobram Estate Classic Extra Virgin Olive Oil 1 brown onion, finely sliced 150gm Swiss brown mushrooms Salt and pepper 4 spring fresh thyme 100gm baby spinach 60gm Zoosh French Onion Dip 1 Tbsp...