Cheat's Paella Rice With Chicken And Seafood

RECIPE BY:
Courtney Roulston
SERVING SIZE:
4 people
INGREDIENTS:
2 x 105g pack Ainsley Harriott's Singapore Aromatic Spice Rice
300g Coles Family Hot Roast BBQ Chicken – breast meat, shredded
500ml Massel Chicken Liquid Stock
12 large raw green prawns, peeled with tail left on
12 black mussels, beards removed
1 brown onion, sliced
200g green beans, sliced into ½ cm rounds
1 tbsp Cobram Estate Classic Extra Virgin Olive Oil
Flat leaf parsley to garnish
Lemon wedges to serve
METHOD:
Heat oil over a medium heat in a large saucepan. Cook the onion for 2 minutes with a touch of sea salt, then add in the beans, rice mix and stock. Bring up to a simmer and cook, stirring occasionally for 5 minutes.
Add in the chicken and stir through the rice to warm. Place the prawns and mussels on the rice and gently nestle them into the rice. Cover with a lid and leave on a gentle simmer for 5 minutes, or until the prawns have cooked through and the mussels have opened.
Garnish with parsley and lemon wedges and serve in the pan with a green salad on the side.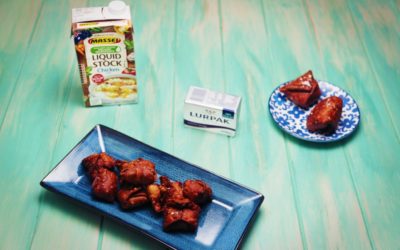 RECIPE BY:Kylie MillarSERVING SIZE:2 - 4 peopleINGREDIENTS:300g flour75g Lurpak Slightly Salted butter75g grated cheddar cheese50g vegemiteColes cling wrapMETHOD:Place all ingredients, except the water, into a food processor and blitz until it resembles fine...