Chicken and Jalapeno Quesadillas

RECIPE BY:
Michael Weldon
TIME:
Prep Time 10 mins
Cook Time 5 mins
INGREDIENTS:
200g Coles Family Hot Roast BBQ Chicken, shredded
4 Coles Tortillas, Large
50g pickled jalapenos
1 tomato, diced
2 spring onions, sliced thinly
50gm sour cream
200g mozzarella cheese, grated
½ bunch of coriander, stems chopped and leaves picked
Cobram Estate Classic Extra Virgin Olive Oil
Pico de gallo: Combine tomatoes, spring onions, chopped coriander stems, salt, lime juice and a generous amount of olive oil.
Prepping your quesadilla: Evenly spread sour cream on one side of the tortilla, then add the barbecue chicken, mozzarella, jalapenos, pico de gallo and coriander leaves.  Fold the tortilla over so you've got a semi circle.
Carefully place the quesadillas on a medium-sized pan on a high heat and cook each side for about 2 minutes, until each side is golden and the cheese has melted. Cut the quesadillas into quarters and serve with pico de gallo and garnish with jalapenos and coriander. ¡Buen provecho!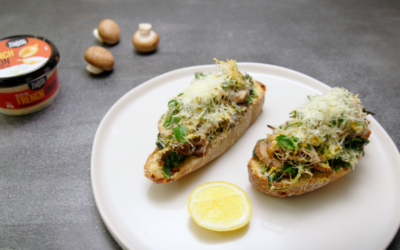 RECIPE BY: Matt Sinclair SERVING SIZE: 2 - 4 people INGREDIENTS: 3 Tbsp Cobram Estate Classic Extra Virgin Olive Oil 1 brown onion, finely sliced 150gm Swiss brown mushrooms Salt and pepper 4 spring fresh thyme 100gm baby spinach 60gm Zoosh French Onion Dip 1 Tbsp...