Chicken Meatballs with Zoodles

RECIPE BY:
Michael Weldon
SERVING SIZE:
Prep Time 15-20
Cook Time 15-20


INGREDIENTS :
MEATBALLS:
500g Coles Chicken mince
½ Onion, diced
1tbs sesame seeds
50g Ricotta cheese
¼ Parmesan cheese, grated
4 sprigs of Parsley stems, chopped finely
¼ tsp Chilli flakes
pinch of salt
TOMATO SAUCE:
1 tin of Ardmona Diced Tomatoes
½ Onion, chopped
1 Garlic clove, chopped
¼ tsp Chilli flakes
50g pitted olives, halved
8 sprigs of parsley, chopped
3tbsp Cobram Estate Robust Extra Virgin Olive oil
Sea Salt
4 Zucchini, cut into noodles
Cobram Estate Robust Extra Virgin Olive Oil
GARNISH:
METHOD :
Preheat your oven to 180C degrees
Place all the ingredients for meatballs in a bowl and using your hands mix until well combined. Fry off a small amount of the meat in a pan to test for seasoning. Use an ice cream soup to measure out your meatballs and scoop them onto a baking tray lined with baking paper. Drizzle olive oil over meatballs and place in the oven for 10 minutes.
In a pan heat oil before adding onions and a pinch of salt. Cook for 1 minute or until the onion begins to brown slightly, then add garlic, chilli flakes and cook for 1 minute before adding tomatoes and stirring through. Add ½ cup of water and allow to simmer until sauce starts to thicken..
Thinly slice the zucchinis to make strips of noodles, alternatively use a 'zoodle' gadget to make noodles. Add to sauce in pan to soften and absorb sauce. Add in parsley and olives, stir through. Once meatballs are ready, add to pan and toss through to coat everything evenly in sauce.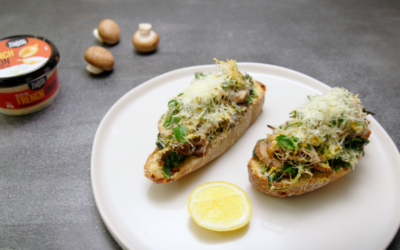 RECIPE BY: Matt Sinclair SERVING SIZE: 2 - 4 people INGREDIENTS: 3 Tbsp Cobram Estate Classic Extra Virgin Olive Oil 1 brown onion, finely sliced 150gm Swiss brown mushrooms Salt and pepper 4 spring fresh thyme 100gm baby spinach 60gm Zoosh French Onion Dip 1 Tbsp...