RECIPE BY:
Matt Sinclair
SERVING SIZE:
2 – 4 people
INGREDIENTS:
2 chicken breasts
1 cup plain flour
2 eggs, lightly beaten
1 ½ cups panko crumbs
¼ cup grated parmesan cheese
2 Tbsp chopped fresh parsley
Salt and pepper
10 basil leaves, roughly torn
200gm mozzarella, sliced
NAPOLITANA SAUCE:
2 Tbsp Cobram Estate Classic Extra Virgin Olive Oil
1 brown onion, diced
2 cloves garlic, crushed
1 Tbsp tomato paste
400gm tinned diced tomatoes
1 Tbsp dried oregano
1 tsp sugar
Salt and pepper
METHOD :
Preheat the oven to 200C. Line a baking tray with greaseproof paper.
Prepare the sauce by heating the oil in a medium pot over a medium heat. Add the onions and garlic, stir often and cook until fragrant and onions are translucent. Add the tomato paste and fry off for 2 minutes, stirring continuously. Pour in the diced tomatoes, stir through and bring to a rapid simmer.
Reduce the heat, add the herbs and season with sugar, salt and pepper. Simmer for approximately 10 minutes or until thickened slightly. Adjust the seasoning to taste if required.
Slice the chicken breast in half, horizontally (follow the natural break up of the tenderloin). Lay out the breast on a chopping board and cover with baking paper or cling film. Pound out with a mallet to tenderise until thinner and even in thickness.
Create a breading station with the flour and eggs each in a shallow bowl. In a third shallow bowl, combine the breadcrumbs, parmesan and chopped parsley and season with salt and pepper. Mix to combine.
Lightly cover the chicken in flour, shake of any excess and transfer to the egg. Turn to coat, allow any excess egg to drip off before transferring it to the breadcrumb mixture. Press the crumb into the chicken to secure it and transfer to a plate. Repeat with remaining chicken.
Heat oil in a large frypan over a medium-high heat until almost shimmering. Gently lay (away from you) the chicken into the oil and shallow fry for 2-3 minutes on each side until golden brown. Transfer to the lined baking tray, top with a spoonful of napolitana sauce, sprinkle over the torn basil leaves and add a layer of sliced mozzarella. Place in the oven for 7-10 minutes, until cheese is bubbly and melted, and the chicken is cooked through. Remove from the oven and season with a little salt and pepper. Serve with a fresh garden salad.
Our friends at Wine Selectors recommend pairing this dish with a Riesling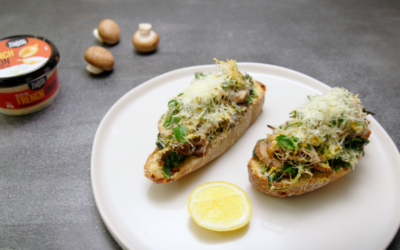 RECIPE BY: Matt Sinclair SERVING SIZE: 2 - 4 people INGREDIENTS: 3 Tbsp Cobram Estate Classic Extra Virgin Olive Oil 1 brown onion, finely sliced 150gm Swiss brown mushrooms Salt and pepper 4 spring fresh thyme 100gm baby spinach 60gm Zoosh French Onion Dip 1 Tbsp...