RECIPE BY:
Matt Sinclair
SERVING SIZE:
12 people
TIME:
Prep Time: 15 mins
Cook Time: 15 mins
INGREDIENTS :
500g Coles Chicken Mince
1/3 cup panko crumb
1/3 cup spring onion, finely chopped
¼ cup coriander, finely chopped
1 Tbsp. jalapeño peppers, finely chopped (jarred or fresh)
1 egg, lightly beaten
Zest of 1 lime
Salt and Pepper
12 slider buns, halved
1 avocado, thinly sliced
12 baby gem lettuce leaves
Oil for cooking
CHILLI – LIME AIOLI:
½ cup ZoOSh Free Range Egg Garlic Aioli
1 Tbsp. Sriracha
1 ½ Tbsp. fresh lime juice
1 Tbsp. coriander leaves, picked, finely chopped
½ Tbsp. mint leaves, picked, finely chopped
METHOD:
In a mixing bowl add the chicken, panko, onion, coriander, jalapeños, egg and lime zest, season generously with salt and pepper and mix until evenly combined. Using lightly oiled hands, form 12 patties to fit slider buns. Set aside until required.
Heat grill or BBQ on medium-high and lightly oil. Place chicken patties on the grill and press down gently to flatten slightly. Cook for approximately 5 minutes in each side allowing a nice char to form.
Meanwhile, place the slider buns, cut side-down on the grill until lightly toasted, approximately 2 minutes. Remove and keep warm.
To serve, place a spoonful of the aioli on the slider base, top with a chicken patty followed by a lettuce leaf. Add sliced avocado to the top of the slider bun and join together. Hold together with a toothpick if needed. Serve immediately.
CHILLI – LIME AIOLI:
Combine all ingredients in a small bowl and mix well to combine. Taste and adjust seasoning if required.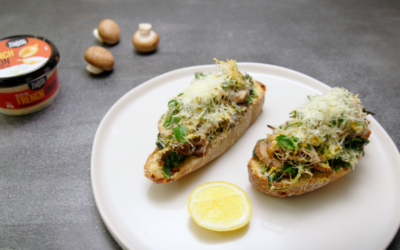 RECIPE BY: Matt Sinclair SERVING SIZE: 2 - 4 people INGREDIENTS: 3 Tbsp Cobram Estate Classic Extra Virgin Olive Oil 1 brown onion, finely sliced 150gm Swiss brown mushrooms Salt and pepper 4 spring fresh thyme 100gm baby spinach 60gm Zoosh French Onion Dip 1 Tbsp...