Chicken with Sesame Greens

RECIPE BY:
Matt Sinclair
SERVING SIZE:
2 – 4 people
INGREDIENTS:
5 Coles Chicken Thigh Fillets, sliced into strips
¼ cup Lee Kum Kee Premium Soy Sauce
3 Tbsp. mirin
3 Tbsp. caster sugar
¼ cup cooking sake
2cm piece ginger, peeled, finely grated
8-10 6" bamboo skewers
Cobram Estate Light Extra Virgin Olive Oil for wok
Shichimi Togarashi to garnish
SESAME GREENS:
1 bunch baby spinach, rinsed
1 bunch broccolini, diced into 1-inch pieces
¼ cup sesame seeds, toasted
4 thick spring onions, chopped into 1-inch pieces, plus extra to garnish
METHOD:
In a hot wok, drizzle a good amount of oil and cook the chicken thighs slightly until they've got a nice golden brown colour- do this in two or three batches. Set chicken aside.
Meanwhile, place a medium saucepan over a medium heat and add the sake, soy sauce, mirin, sugar and ginger and mix together. Bring to a light boil, reduce heat to low and simmer to thicken by 1/3, approximately 8 minutes. Taste and adjust seasoning to balance if required. Set aside to cool slightly.
Back in the wok over a high heat, throw in the spring onions and allow them to soften slightly, then add broccolini and chicken. Cover with lid so to allow the chicken and greens to steam for 2-3 minutes. Add spinach and sesame seeds and toss through.  Finally, mix the marinade through.
To serve, finish with some togarashi seasoning, thinly sliced spring onions and sesame seeds.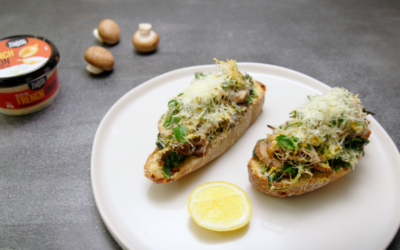 RECIPE BY: Matt Sinclair SERVING SIZE: 2 - 4 people INGREDIENTS: 3 Tbsp Cobram Estate Classic Extra Virgin Olive Oil 1 brown onion, finely sliced 150gm Swiss brown mushrooms Salt and pepper 4 spring fresh thyme 100gm baby spinach 60gm Zoosh French Onion Dip 1 Tbsp...