Chilli Coleslaw with Grilled chicken

RECIPE BY:
Michael Weldon
TIME:
Prep Time 10-15
Cook Time 10
INGREDIENTS:
2 Coles RSPCA Approved Chicken Breast Fillets, butterflied
1tbs Sea Salt
1tbs Smoked Paprika
1tbs Cumin Powder
Cobram Estate Robust Extra Virgin Olive Oil
COLESLAW:
¼ White Cabbage, shredded
¼ Chinese cabbage, shredded
3 Spring Onions, roughly chopped
1 Carrot, shredded
1 bunch of Coriander, leaves picked
1 bunch of Chives, roughly chopped
¼ cup of Smoked almonds, chopped (reserve some for garnishing)
DRESSING:
½ cup of Zoosh Coleslaw
3tbs of Sriracha
½ Lemon juice
METHOD:
Coat evenly the butterflied chicken breasts with salt, paprika and cumin powder. Drizzle over with olive oil before placing on a hot griddle pan and turn once cooked halfway through. Set aside and allow to rest once cooked.
In a large bowl, combine coleslaw ingredients and toss to combine. Drizzle Dressing ingredients over and stir until coleslaw is evenly dressed.
Slice chicken into strips and sprinkle over the top of the coleslaw and garnish with coriander and almonds.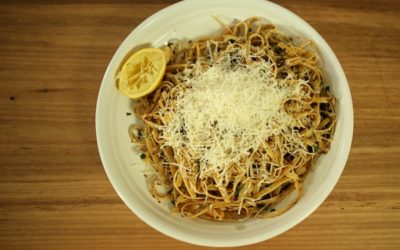 RECIPE BY: Matt Sinclair SERVING SIZE: 2 - 4 people INGREDIENTS : 300gm raw banana prawns, cleaned, chopped into 2cm pieces 130gm raw chorizo, peeled 200gm fettuccine 1 Tbsp. Cobram Extra Virgin Olive Oil 3 cloves garlic, finely sliced ¼ cup toasted pine nuts 1/3 cup...