RECIPE BY:
Michael Weldon
SERVING SIZE:
2 – 4 people
INGREDIENTS:
2 Chorizo, diced
2 potatoes, cooked & diced
1 Brown onion, diced
1tbs cumin seeds
8 flour tortillas
8 Eggs
1 block of Coles haloumi cheese
1 tomato diced
150g Sour Cream
1 bunch of Coriander
Smoked Chipotle Tabasco Sauce
METHOD:
In a pan with EVOO, place the chorizo, cumin seeds and cook for a few minutes until the oil turns an orange colour.
Add in the potato, diced onion and season with salt. Add the tomatoes into the pan for approximately 30 seconds just to warm through. Place mixture aside.
Meanwhile, place tortilla in a non stick fry pan to heat.
To assemble the taco, on the base of the tortilla, place chorizo and potato mix, add sour cream, tabasco and coriander. Top with grated halloumi cheese
Our friends at Wine Selectors recommend pairing this dish with a Tempranillo or Fiano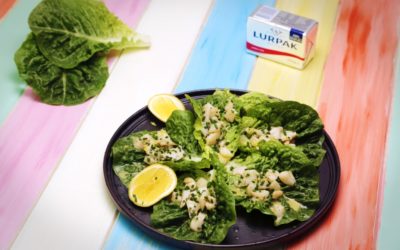 RECIPE BY:Courtney Roulston and Scott McRaeSERVING SIZE:2 - 4 people INGREDIENTS:12 fresh scallops in the half shell80g Lurpak butter, room temperature2 teaspoon lemon zest, finely grated1 large clove garlic, grated2 tablespoons fresh dill, finely chopped1 green...