RECIPE BY:
Matt Sinclair
SERVING SIZE:
2 – 4 people
INGREDIENTS:
2 Tbsp Cobram Estate Classic EVOO
4 chicken thighs, trimmed, diced into 1 inch pieces
3 rashers bacon, roughly chopped
1 brown onion, diced
2 carrots, diced
100gm button mushrooms, sliced
3 Tbsp Coles plain flour
375ml Massel salt reduced chicken stock
1 tsp thyme leaves
Salt and Pepper
1 sheet puff pastry, thawed
1 egg, lightly beaten
METHOD:
Heat oil in a large heavy-based pan over a medium-high heat. Brown chicken in batches for 2-3 minutes, remove with a slotted spoon and set aside.
Add the bacon, onion and carrot to the pan, stirring often until onion becomes translucent. Stir in the mushroom and cook for a further 5 minutes. Add the flour and cook, stirring, until lightly toasted. Deglaze with a small amount of stock and return chicken to the pan. Pour over remaining stock, add the thyme and bring to the boil. Reduce heat and simmer for 10-15 minutes. Season to taste with salt and pepper. Allow to cool slightly.
Preheat oven to 200C. Spoon filling into 4 ramekins, leaving 1 cm from the top. Lay out pastry and cut out 4 circles to fit the top of each pie. Cut a small X in the middle of each pastry lid and lay over the top of the pie filling. Brush with egg and place in the oven for 25-30 minutes, or until pastry is puffed and golden.
Our friends at Wine Selectors recommend pairing this dish with a Chardonnay or Gruner Veltliner or Grenache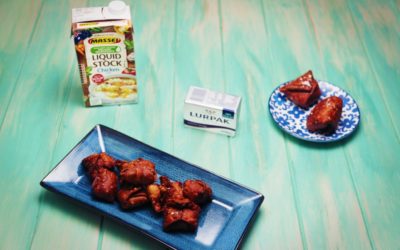 RECIPE BY:Kylie MillarSERVING SIZE:2 - 4 peopleINGREDIENTS:300g flour75g Lurpak Slightly Salted butter75g grated cheddar cheese50g vegemiteColes cling wrapMETHOD:Place all ingredients, except the water, into a food processor and blitz until it resembles fine...