RECIPE BY:
Matt Sinclair
SERVING SIZE:
2 – 4 people
INGREDIENTS:
2 Tbsp Cobram Extra Virgin Olive Oil
500gm Lamb mince
1 Tbsp ground cumin
1 Tbsp chilli flakes
Salt
6-8 Simsons Pantry wraps
1 cup picked assorted herb leaves (e.g. Coriander, mint, parsley, dill)
HUMMUS
2 tins chickpeas, drained
2 cloves garlic
1 Tbsp ground cumin
1/4 cup Cobram Extra Virgin Olive Oil
1/3 cup water
Zest + juice of 1 lemon
Salt
METHOD:
Heat oil in a pan over high heat until smoking. Crumble in lamb mince and season with cumin, chilli flakes and a pinch of salt. Avoid stirring too often to allow colour to form on the lamb. Cook for approximately 10-15 minutes until dark in colour and crispy.
In a food processor, combine all hummus ingredients and blitz until smooth, season to taste. Transfer to a small saucepan and warm over a low-medium heat.
Heat tortillas in a warm griddle pan or oven and keep warm until ready to serve.
To assemble, spread the tortilla with hummus, top with crispy lamb and garnish with herbs.
**TIP : Serve on platter so everyone can make their own.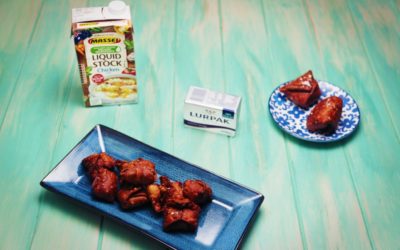 RECIPE BY:Kylie MillarSERVING SIZE:2 - 4 peopleINGREDIENTS:300g flour75g Lurpak Slightly Salted butter75g grated cheddar cheese50g vegemiteColes cling wrapMETHOD:Place all ingredients, except the water, into a food processor and blitz until it resembles fine...