RECIPE BY:
Matt Sinclair
SERVING SIZE:
4 people
INGREDIENTS :
8 slices Coles Stone Baked Pane Di Casa
1 ½ cups finely grated Gruyere
2 Tbsp. Ballantyne Unsalted Butter
2 Tbsp. plain flour
2 tsp. KEEN's Mustard Powder
1 cup milk, heated
¼ tsp white pepper
¼ tsp grated nutmeg
Sea salt
1 Tbsp. Ballantyne spreadable butter
150gm ham off the bone
½ tsp dried thyme
½ tsp dried oregano
½ tsp dried rosemary
8 miniature dill pickles
METHOD :
Place a medium saucepan over a medium heat and melt butter until it starts to bubble, avoid browning. Mix the flour and mustard powder together, add to the melted butter, stirring until thickened and slightly bubbly, approximately 2-3 minutes. Gradually pour in the milk, whisking continuously until smooth. Cook until sauce has thickened, approximately 4 minutes. Remove from heat and season with white pepper, nutmeg and salt to taste.
Preheat oven to 220C and line a baking tray with greaseproof paper.
Combine dried herbs in a small bowl and mix together.
Spread butter on one side of each piece of bread. Take 4 slices and spoon béchamel on the unbuttered side and spread all the way to the edge. Top with sliced ham and grated Gruyere cheese. Sprinkle with mixed dried herbs and place remaining slice of bread on top, buttered side up.
Place a large pan over medium heat, place sandwiches into the heated pan and cook until golden, approximately 2 minutes on each side. Transfer onto prepared baking tray, spread the top of the sandwiches with béchamel and sprinkle with grated cheese and dried herbs. Place in the oven and bake until cheese is bubbly and golden. Approximately 10 minutes. Serve with dill pickles on the side.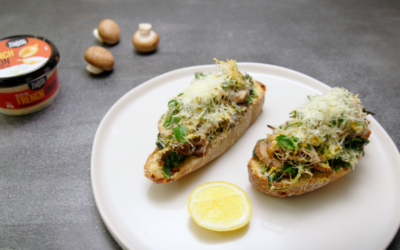 RECIPE BY: Matt Sinclair SERVING SIZE: 2 - 4 people INGREDIENTS: 3 Tbsp Cobram Estate Classic Extra Virgin Olive Oil 1 brown onion, finely sliced 150gm Swiss brown mushrooms Salt and pepper 4 spring fresh thyme 100gm baby spinach 60gm Zoosh French Onion Dip 1 Tbsp...