RECIPE BY:
Michael Weldon
INGREDIENTS :
2 tbsp ZoOSh Ranch dressing
½ cup plain flour
400g plain flour
360ml beer
Sea salt
1 tbsp smoked paprika
1 tbsp cumin powder
300ml Soda water
1 tsp White vinegar
500g Dill Pickles, sliced longways into thirds
½ cup Sliced pickled jalapeno
1 bunch of dill
METHOD :
In a large bowl whisk the 400g flour with the beer, pouring whilst stirring. Repeat with soda water until you have a thin batter consistency. Add cumin, paprika, vinegar and a pinch of salt.
In a large bowl coat the pickles and jalapeno with the remaining flour, dust off any excess and coat them in the batter mixture.
In hot oil, fry the pickles and jalapenos in small batches until golden. Remove from oil and drain on paper towel. Season with salt and deep-fried dill.
Serve with ZoOSh Ranch dressing as a dipping sauce on the side.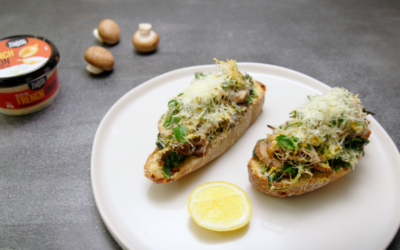 RECIPE BY: Matt Sinclair SERVING SIZE: 2 - 4 people INGREDIENTS: 3 Tbsp Cobram Estate Classic Extra Virgin Olive Oil 1 brown onion, finely sliced 150gm Swiss brown mushrooms Salt and pepper 4 spring fresh thyme 100gm baby spinach 60gm Zoosh French Onion Dip 1 Tbsp...