RECIPE BY:
Courtney Roulston
SERVING SIZE:
2 people
STOCK:
1ltr Massel Liquid Chicken Stock
1tsp fresh ginger, finely sliced
1 clove garlic, sliced
½ star anise
1 small cinnamon stick
1Tb fish sauce
2tsp sugar
2tsp Lee Kum Kee Sesame Oil
½ white onion, sliced
2 cups rice noodles, soaked & drained
200gm Coles chicken breast (or tenderloin)
1 cup snow peas, trimmed
2 bok choy or 1 bunch of any Asian greens
1 cup bean sprouts
½ cup each: coriander & Thai basil
Lemon wedges and fresh chilli to serve
Lee Kum Kee Hoisin Sauce
Lee Kum Kee Chilli Garlic Oil
Lee Kum Kee Gluten Free Soy Sauce
METHOD:
Place all the stock ingredients in a large saucepan over a medium/high heat.
Bring up to a simmer, cover and cook for 15 minutes for the aromatics to infuse the stock.
Place the chicken into the stock, and remove from the heat. Allow to gently poach for 15-20 minutes. Once the chicken is cooked through, remove it from the stock, slice/shred and set aside.
Place the stock back onto the heat and bring back up to a simmer. Add in snow peas and Asian greens. Cook for 2 minutes.
To serve: Place the soaked rice noodles into the bottom of serving bowls.
Top with the cooked greens and poached chicken. Pour over the hot stock and scatter with bean sprouts, coriander leaves and Thai basil.
Serve with lemon wedges, garlic chilli oil and hoisin sauce…and an extra chilli mixed with GF soy sauce dip. Enjoy!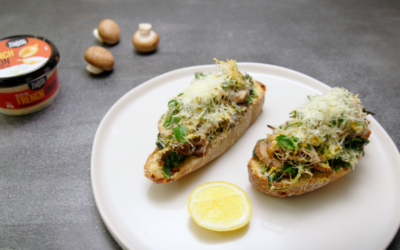 RECIPE BY: Matt Sinclair SERVING SIZE: 2 - 4 people INGREDIENTS: 3 Tbsp Cobram Estate Classic Extra Virgin Olive Oil 1 brown onion, finely sliced 150gm Swiss brown mushrooms Salt and pepper 4 spring fresh thyme 100gm baby spinach 60gm Zoosh French Onion Dip 1 Tbsp...