RECIPE BY:
Matt Sinclair
SERVING SIZE:
2 – 4 people
INGREDIENTS:
150gm plain flour
3 eggs, lightly beaten
250gm panko breadcrumbs
2 large eggplants, peeled, sliced lengthways 5mm thick
½ cup Cobram Estate Extra Virgin Olive Oil, plus extra
600gm sliced fresh mozzarella cheese
½ cup fresh picked basil leaves
½ cup grated parmesan cheese
Salt and Pepper
TOMATO SAUCE
¼ cup Cobram Estate Robust EVOO
1 brown onion, diced
4 cloves garlic, peeled, thinly sliced
1 heaped Tbsp tomato paste
3 410gm tins diced tomato
Salt and Pepper
METHOD:
Prepare the sauce in a large saucepan, heating the oil over a medium heat. Add the onion and garlic and cook, stirring often until onion is translucent, approximately 5 minutes. Add the tomato paste and fry off, stirring through the onions and garlic for a further 5 minutes. Pour in the diced tomatoes and bring to the boil. Reduce heat to low and simmer for 10 minutes. Remove from heat, season with salt and pepper to taste and set aside until required.
Place the flour, egg and breadcrumbs into 3 separate shallow trays. Season the flour with salt and pepper and mix to combine. Thin the egg out with a little water.
Coat the eggplant slices in the flour, shake off any excess and transfer to coat in the egg mixture. Remove any excess and transfer to the breadcrumb. Gently press down to coat evenly.
Heat oil in a large frying pan over a medium-high heat. Fry the eggplant slices in batches until golden brown, approximately 1 minute on each side. Transfer to a wire rack over paper towel to drain. Season with salt.
Preheat oven to 220C. Spoon 1/3 cup of the tomato sauce on the base of an ovenproof baking dish. Place 1 layer of eggplant into the dish and top with a layer of mozzarella slices. Repeat with another spoonful of tomato sauce, eggplant and cheese. After the next spoonful of tomato sauce, scatter the basil leaves evenly and top with another layer of eggplant. Repeat layering until all eggplant has been used, ending with a layer of mozzarella. Sprinkle over the parmesan cheese and lightly drizzle with olive oil. Place in the oven to bake until cheese is golden brown and bubbling, approximately 20-25 minutes. Remove and allow to cool slightly before serving. Serve with a garden salad on the side.
Our friends at Wine Selectors recommend pairing this dish with a Barbera or Sangiovese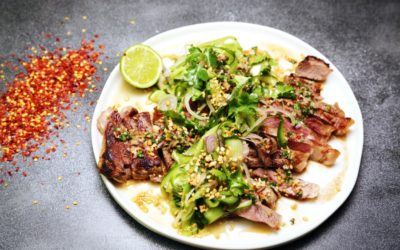 RECIPE BY: Courtney Roulston SERVING SIZE: 2 - 4 people INGREDIENTS: 2 x 230g Coles Finest Sirloin steaks 1 tablespoon Cobram Estate EVOO 2 Lebanese cucumbers, peeled into noodles 2 red shallots (French ), finely sliced ½ cup loosely packed coriander leaves ½ cup...