Fillet Steak with Pepper Sauce

RECIPE BY:
Michael Weldon
SERVING SIZE:
2 people
TIME:
Prep time 10 mins
Cook time 10-15 mins
INGREDIENTS :
2 Coles Graze Scotch Fillets
Cobram Estate Classic Extra Virgin Olive Oil
Sea Salt
1 bunch of Spring Onions, to garnish
PEPPER SAUCE:
1tbsp Cobram Estate Classic Extra Virgin Olive Oil
2tbs butter
1 Shallot, diced
1tbs coarsely crushed Black Peppercorns
1tbs Green Peppercorns (from a tin)
¼ cup brandy
¼ cup Massel Liquid Beef Stock
1 cup Cream
1tbs Parsley leaves, chopped
METHOD :
Allow steaks to reach room temperature before seasoning with olive oil and salt on both sides. Add to a hot BBQ grill and cook on both sides to your liking. Set aside and allow to rest while making the pepper sauce.
In a pan heat oil and melt 1 tbsp butter together. Add shallot and fry off for 1 minute before adding pepper and brandy, cook until it thickens into a syrup consistency. Add in stock and again cook down until sauce becomes a syrup consistency. Add cream and reduce the sauce down by half before adding remaining butter and parsley.
Grill Spring onions on the BBQ until slightly charred. Dress with olive oil and serve with steak and pepper sauce drizzled over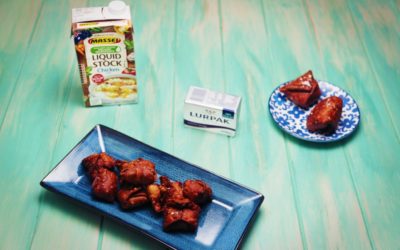 RECIPE BY:Kylie MillarSERVING SIZE:2 - 4 peopleINGREDIENTS:300g flour75g Lurpak Slightly Salted butter75g grated cheddar cheese50g vegemiteColes cling wrapMETHOD:Place all ingredients, except the water, into a food processor and blitz until it resembles fine...