RECIPE BY:
Michael Weldon
SERVING SIZE:
2 – 4 people
INGREDIENTS:
2 cups of Sugar
½ cup of Squid brand Fish Sauce
3 Star Anise
1 stick of Cinnamon
1 Birds Eye Chilli
1 Long Chilli
1 Eschallot
1 Lime
2 Tbsn of Cobram Estate Classic Extra Virgin Olive Oil
1 large bunch of Broccolini
1 Tablespoon of fried Shallots
METHOD:
Turn on the saucepan to a medium heat. Add 2 cups of sugar into the pan, then add ½ cup of fish sauce. Stir through to melt the sugar. This is a dish about balance so taste as you go. Careful as the caramel gets very hot. Melt it down and cook until it intensifies. Taste when it cools down a bit and add more fish sauce to taste.
Next add 3 Star Anise, 1 stick of Cinnamon, 1 birds eye chilli cut in half length ways, 1 eschallot sliced thinly. Mix altogether and cook until sauce thickens out, sugar is completely melted and it develops a deeper colour. This will take about 10-15 minutes on a medium heat.
Let cool then strain off the fish sauce caramel to remove all of the aromats. Add the juice of 1 lime and set aside.
Heat a fry pan with Cobram Extra Virgin Olive Oil Classic. While the pan is heating chop 1 large bunch of broccolini in half. Place into the pan and fry quickly. At the end add Sugar Snap Peas that have been cut into thirds to warm them through. Take the pan off the heat and coat with 2 or 3 tablespoons of the Fish Sauce Caramel. Mix this through so it is shiny and coated with the sauce. Add more as needed. Plate into a large bowl and add a light drizzle on top for garnish. Chop 1 long chilli diagonally and a sprinkle of fried shallots for garnish. Enjoy!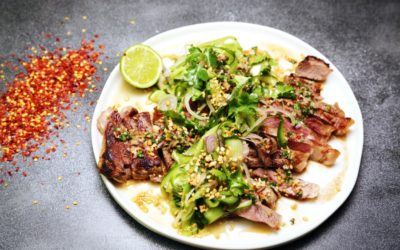 RECIPE BY: Courtney Roulston SERVING SIZE: 2 - 4 people INGREDIENTS: 2 x 230g Coles Finest Sirloin steaks 1 tablespoon Cobram Estate EVOO 2 Lebanese cucumbers, peeled into noodles 2 red shallots (French ), finely sliced ½ cup loosely packed coriander leaves ½ cup...