Garlic and Thyme Cous Cous stuffed Mushrooms

RECIPE BY:
Michael Weldon
INGREDIENTS :
1 Pack of Ainsley Harriott Wild Mushroom Couscous
8 medium Portobello mushrooms
1 brown onion
1 garlic clove
1 tbs Butter
2tbs Cobram Extra Virgin Light Olive Oil
4 thyme sprigs, leaves picked
½ bunch of Parsley, leaves picked
1 lemon, zest
8 eggs, poached
Vinegar
Sea Salt
Black Pepper
160ml water
20g butter
METHOD :
Stuffed Mushrooms:
Preheat oven to 200C.
Pour packet of couscous into a bowl, and then pour 160ml of hot water over it. Add butter to make it light and fluffy. Allow to sit for 3-5 mins or until couscous grains have separated and soaked all the water.
In a lightly oiled pan, fry garlic and onion until golden brown. Add thyme, lemon zest and roughly chopped parsley and mix through.  Season with salt and pepper.
Once the couscous is ready, add the garlic and onion mixture and combine.
To prepare the mushrooms for stuffing, remove stalks and align on a tray.
Then with a spoon, fill in the natural gap of each mushroom so that it is flat and even.  Top each one with butter before putting it in the oven.
Cook in oven for 15 mins (w fan grill on) or until golden brown
Poached Eggs:
In a saucepan, bring water to the rolling boil and add a good splash of vinegar.
Crack egg in a mug or teacup and give the water a good swirl before placing the egg in – the trick is to get it as close to the water as possible so it holds together.
To serve, place two stuffed mushrooms on a plate and sit the poached eggs on top.  Finish with fresh parsley.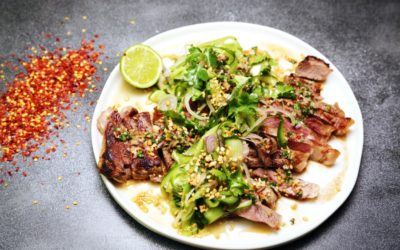 RECIPE BY: Courtney Roulston SERVING SIZE: 2 - 4 people INGREDIENTS: 2 x 230g Coles Finest Sirloin steaks 1 tablespoon Cobram Estate EVOO 2 Lebanese cucumbers, peeled into noodles 2 red shallots (French ), finely sliced ½ cup loosely packed coriander leaves ½ cup...