RECIPE BY:
Sashi Cheliah
SERVING SIZE:
2 – 4 people
INGREDIENTS:
20 cauliflower florets
3/4 cup plain flour
1/4 cup corn flour
1tsp chilli powder
1tsp ginger garlic paste
1/4tsp salt
1/2 cup water
2tbsp vegetable oil
2 garlic finely chopped
1inch ginger finely chopped
1 green chilli finely chopped
1/2 onion finely chopped
1/2 green capsicum diced
2 tbsp tomato ketchup
2tbsp chilli sauce
2tbsp white vinegar
2 tbsp soy sauce
1/4tsp ground black pepper
1/4tsp salt
1/4 tsp corn flour
1/4 cup water
Spring onions for garnish
METHOD:
Cook the cauliflower florets for 2mins in boiling water and transfer into cold water to stop the cooking.
Mix the plain flour, corn flour, chilli powder, ginger garlic paste and salt with water to make a smooth batter.
Coat the cauliflower florets in the batter and beep fry until golden brown.
On a separate pan heat the oil and sauté the garlic, ginger, green chilli and red onion until fragrant.
Add capsicum, tomato ketchup, chilli sauce, vinegar, soy sauce, pepper and salt and cook for 2mins.
On a separate bowl mix corn flour and water until no lumps.
Add the corn flour mixture to the pan and mix well.
Add fried cauliflower florets to pan and mix well until all the cauliflower are coated with the spice sauce.
Garnish with some spring onions.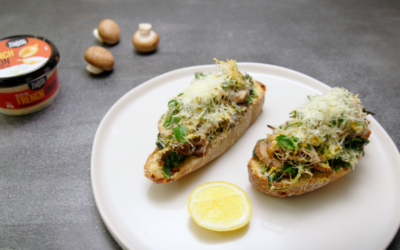 RECIPE BY: Matt Sinclair SERVING SIZE: 2 - 4 people INGREDIENTS: 3 Tbsp Cobram Estate Classic Extra Virgin Olive Oil 1 brown onion, finely sliced 150gm Swiss brown mushrooms Salt and pepper 4 spring fresh thyme 100gm baby spinach 60gm Zoosh French Onion Dip 1 Tbsp...