RECIPE BY:
Michael Weldon
INGREDIENTS :
1 packet Ainsley Harriott's Spice Sensation Couscous
1 handful of basil leaves
1 handful of parsley leaves
50g almonds
2 anchovy fillets
2 garlic cloves, roughly chopped
½ juice of a lemon
1 bag of French baby kale leaves
1 zucchini, diced
1 green capsicum, sliced
100g green peas
100g snow peas, finely sliced
50g parmesan
Salt
1 tbsp Cobram Estate Light Extra Virgin Olive Oil (for couscous)
¼ cup Cobram Estate Light Extra Virgin Olive Oil (for dressing)
METHOD :
Rehydrate couscous according to instructions and add oil while it is absorbing the water.
In a food processor, blitz garlic, anchovies, almonds, parmesan oil and herbs, until fairly smooth. Add in lemon and a pinch of salt and give another quick blitz.
In a large pan, heat olive oil and add zucchini and toss through before adding kale, capsicum, peas and a pinch of salt. Cook until kale has reduced by at least half. Add in snow peas just prior to serving and warm through. Fluff couscous with a fork and combine with vegetable mix and dressing in a large bowl. Toss through until everything is evenly coated and distributed. Garnish with lemon wedge.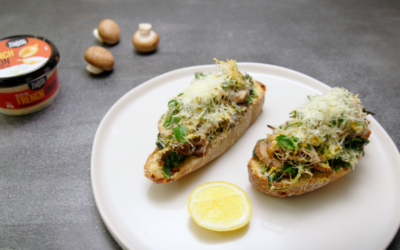 RECIPE BY: Matt Sinclair SERVING SIZE: 2 - 4 people INGREDIENTS: 3 Tbsp Cobram Estate Classic Extra Virgin Olive Oil 1 brown onion, finely sliced 150gm Swiss brown mushrooms Salt and pepper 4 spring fresh thyme 100gm baby spinach 60gm Zoosh French Onion Dip 1 Tbsp...